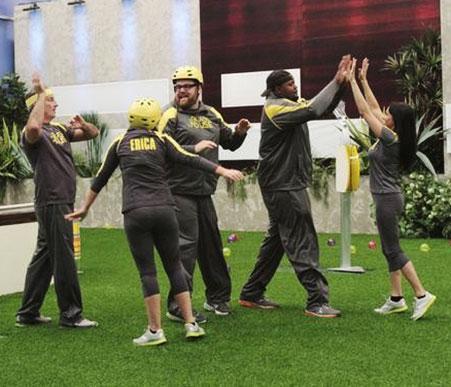 Those who make shows about physical or metaphoric glass houses shouldn't throw stones. At least that's what CBS decided when it dropped its copyright infringement lawsuit against ABC's reality series The Glass House, which the network said was a close copy of its own Big Brother. (Because it was.) Apparently, Glass House's abysmally low ratings were enough to make CBS executives decide that the suit was unnecessary.
The Glass House, which also put random strangers in a house under 24-hour surveillance (but relied on viewers to vote out contestants), averaged only 2.9 million viewers all season, while Big Brother has been a ratings his for CBS for the better part of a decade. Still, back in June entertainment lawyer Neil J. Rosini told Hollywood.com that it would have been a hard case for CBS, due to the incestuous nature of reality television. "The idea, the concept, of having cameras within a home, watching residents, has been around for a long time," Rosini said.
But in the end, CBS had the last laugh, as ratings proved that there was only room for one game show meets Real World program in town. "The viewers have spoken and delivered the ultimate form of justice against The Glass House," CBS said in a statement released on Friday. "As a result, we filed in federal court this morning a voluntary dismissal without prejudice of our claims against ABC. The contract and trade secrets claims against former Big Brother producers for violating their confidentiality agreements will continue separately in arbitration. We reserve the right to re-file this claim against ABC/The Glass House, or any other entity, that goes to such shocking lengths to duplicate our copyright material."
Harsh words, indeed. But it was all right. Everything was all right, the struggle was finished. He had won the victory over himself. He loved Big Brother.
Follow Shaunna on Twitter @HWShaunna
[PHOTO CREDIT: ABC]
MORE:
CBS vs. ABC: 'Glass House' Case Gets Hearing Date
'The Glass House' Case Continues: Making Sense of ABC's Latest Argument