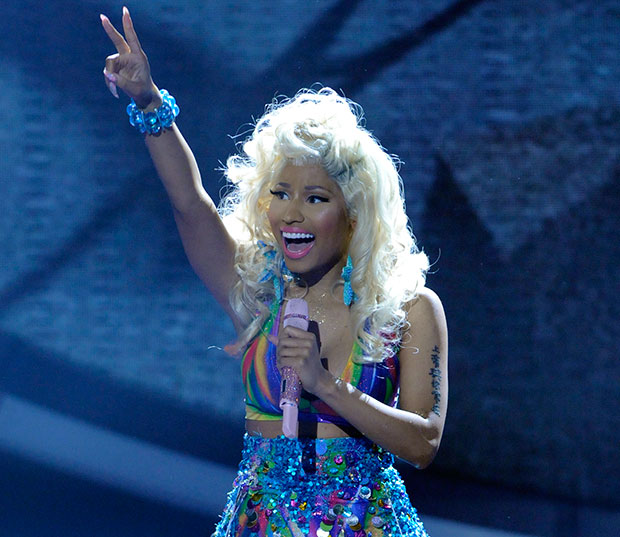 The Associated Press is reporting that the always-outrageous Nicki Minaj will be joining the judging panel — next to previously announced newcomer Mariah Carey — for the upcoming 12th season of the FOX reality phenomenon American Idol. (FOX had no comment on the potential deal.)
Minaj's deal marks the first time a rapper has graced the ever-changing judging panel, which over the years has shifted to include Simon Cowell, Paula Abdul, Randy Jackson, Kara DioGuardi, Ellen DeGeneres, Steven Tyler, and Jennifer Lopez. Although longtime judge Jackson's fate with the show has still not been set, departing judges Tyler and Lopez have made room for Carey and Minaj to take over the table and Coke cups — leaving either one or two spots left, ostensibly for male replacements. 
Rumors are currently swirling that Nick Jonas may take one of the last slots (after the young star tweeted his feelings about joining the perennial singing competition). However, The Hollywood Reporter writes that the judging panel is shaping up to include two more slots, with one being a country star (Keith Urban) and the other a Latin musician (Enrique Iglesias). Other potentials on the shortlist? Charlie Sheen. Well, probably not anymore.
A rep for Minaj have not responded to Hollywood.com's request for comment.
Follow Marc on Twitter @MarcSnetiker
[Photo Credit: Phil Mcarten/FOX]
MORE:
Nick Jonas on 'American Idol' Rumors: "Would Be A Dream Come True"
Mariah Carey Joins 'American Idol'
Jennifer Lopez Confirms Official 'American Idol' Exit to Ryan Seacrest