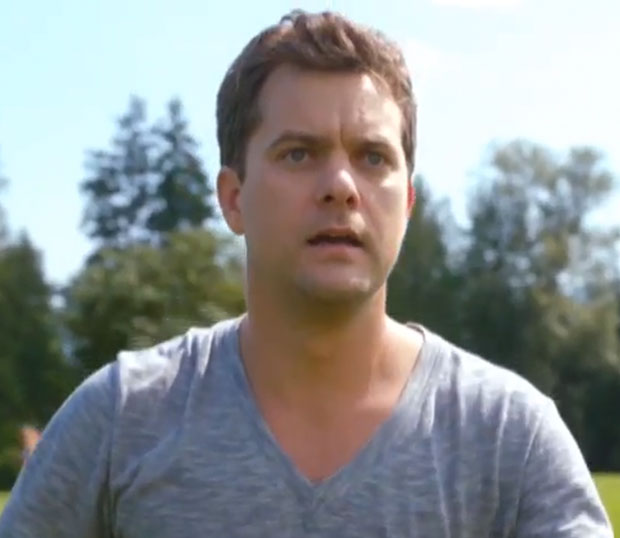 They're it's coming! The fifth and (unfortunately) final season of Fox's cult favorite Fringe is set to debut on Friday, Sept. 28, with the strangely titled episode "Transilience Thought Unifier Model-11." Though, really, it's not all that strange when you consider season 5's premise: 24 years in the future, the Fringe team (along with an adult version of Peter and Olivia's daughter, Etta) will have to battle a mysterious group of bald guys called Observers, who have been on the show's periphery since season 1.
Towards the end of last season, producer Joel Wyman flirted with the idea of an Observer-centric finale when he first jumped the gang into a dystopian 2036, where the Observers had already established an authoritarian rule. In the clip below, we see a final glimpse of life as we know it, through the now-parental eyes of Peter and Olivia.
Anyone who missed last season's 19th episode, "Letters of Transit," would probably be very confused by the preview shown above — because for the last few years, Fringe has primarily focused on a battle between our primary and an alternate universe (set in present day), with the Observers only occasionally popping up to say or do something cryptic. But according to Wyman, the world presented in "Transit" was so alluring that he just had to make it the focus of the show's final season. "When I watched the episode, I knew," Wyman told Hollywood.com during San Diego Comic Con. "It was just too interesting. I thought, 'Well, thematically if I want to go here, it would be a really good way to tell some of the things that we could tell.'"
Huh? Well, all we know so far is that the Observers destroyed the planet in 2609 AD, then traveled back in time to enjoy/take over our world. This was shocking in "Transit," because up until then, the Observers had always been around to just, well, observe. For every major event in the show's (and planet Earth's) history, they were there, watching. We just knew nothing about them. Thankfully, Wyman says this won't be the case in season 5. "Their entire agenda will become clear this year," he said. "That's one of the things I really wanted to get at — to figure out what the Observers are. I'm not hiding anything. I don't want to do any more crazy tricks."
Crazy tricks... like getting rid of our beloved alt-universe characters (and the wonderful Lincoln Lee) after three seasons together? Wyman confirmed that that part of Fringe is indeed over, but rest assured that not everything has been turned upside down — we can still trust September, the Observer with a heart of gold. "September, I can tell you, was a good one," he said. (Wait — was?) "He was not duplicitous. [Fans] deserve to get all of the answers — you deserve to be emotionally invested and spend time with these great characters who you love, and helped save."
Follow Shaunna on Twitter @HWShaunna
[PHOTO CREDIT: Fox]
MORE:
'Fringe' Gets Fond Farewell at Comic-Con
TCA 2012: 'Fringe' Stars Talk Season Five and Emmy Snubs