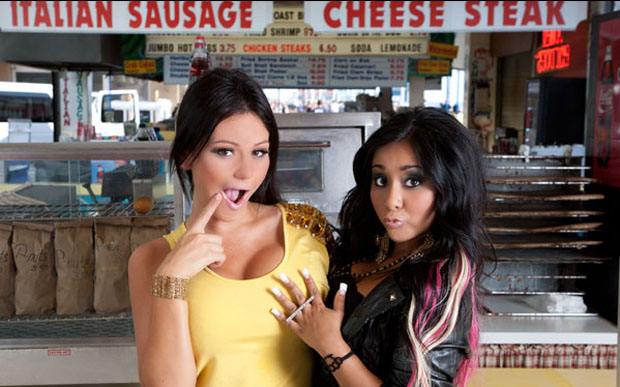 We have learned to say many things thanks to the cast of Jersey Shore. Strange terms like "GTL," "guido," and "gorilla." But there is one G word we haven't had to say yet: "goodbye." Yes, MTV announced today that the upcoming sixth season of the greatest sociological experiment of our time will be its last.
Maybe that's because in Season 6, Snooki is pregnant, The Situation is sober, and almost everyone is in a relationship. Yes, even Deena! Once Deena has found love, you know it's time to put all your thongs in your luggage (which is really just a Glad bag) and call it a day. As someone who possesses an honorary doctorate in Jersey Shore studies from the University of Chicago, it is my contention that Season 5 should have been the end. We have learned all we can from these tanned creatures and their exploits weren't as exciting or revelatory as they once were. They didn't even visit their mating ground (the hot tub) even once in the last season. Who are these people? We do not know them. They have been touched by fame and forever changed.
But we all still have one last season. It starts October 4 on MTV and there will be some clip shows and other nonsense to celebrate the end of this blip in the zeitgeist. And we'll only have to wait 18 years for this to all come full circle when Snooki's son gets his own show.
Follow Brian Moylan on Twitter @BrianJMoylan
[Photo Credit: MTV]
More:
Snooki Gives Birth to a Baby Boy
'Jersey Shore' Renewed for Season 6