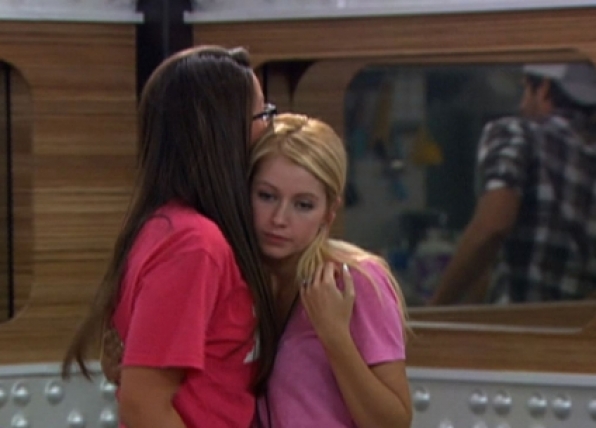 In your heaaaaaad, in your heaaaaaad, they're still fighting. With their Zingbots and their Power of Vetos and their HoHs and their Quack Packs. In your heaaaaaad, Dan's a zombie-eh-eh-eh-eh. (You guys, that's how great Big Brother is it can make you spontaneously break into your own take on a Cranberries song.) 
It's true, Dan the Zombie came back from the dead on Wednesday night only to put the lovely and delightful Britney firmly in her grave —
again
—  during tonight's intense eviction episode of
Big Brother
. 
As Big Brother fans have had a little over 24 hours to try to come to terms with Dan's Shakespearian "funeral" speech and what Julie Chen rightly referred to as "the biggest comeback in the history of the game", Britney could only surrender to her inevitable fate and do the same. 
She knew what Dan had pulled off and that, yet again, she would be sent home by player(s) she'd been in an alliance with. First by The Brigade (who made a hilarious appearance in the ep) and now the Quack Pack. 
Dressed pretty in pink on the block, Britney was kicked out of the house by a vote of 4-1, with her lone ally Ian trying, in vain, to keep her out of the jury house and on Big Brother for another week. Britney, as expected, left with grace and dignity, but not without dropping a killer line on the undead Dan: "You'll always be Judas to me." 
[Photo credit: CBS] 
More: