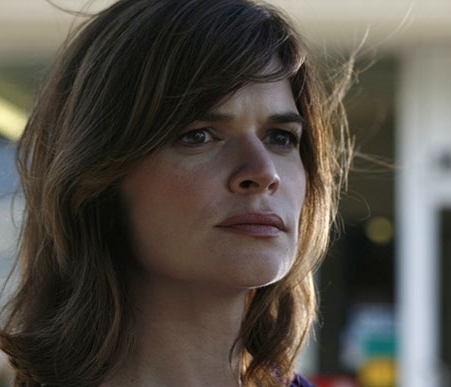 Last night's mid-season finale of Breaking Bad was a game-changer, and one that should finally signal the beginning of the end for the devious Walter White (Bryan Cranston). Walt spent the majority of the episode riding a cruel wave of success, as he brutally eliminated anyone who might spill the beans about Gus Fring's murder and made a literal mountain of money in the international drug trade. Then, in the end, a bomb was dropped — in more ways than one. (Spoilers Ahead!)
Yes, Hank (Dean Norris) finally put two and two together while sitting on the toilet — a slightly absurd scenario, being that Hank spent a year using the DEA's resources to search for Heisenberg then finally found him via a seemingly innocuous piece of bathroom reading. Now we have to wait the better part of a year for Breaking Bad's final eight episodes to reveal what happens after Hank finishes his business — luckily, Norris and his on-screen wife Betsy Brandt have some insider ideas on what's next for their characters.
Norris recently told Hollywood.com that he thinks Hank will go back into basic training mode when he fully realizes the truth about Walt, putting all emotional damage aside and focusing on the task at hand — and yes, he believes that Hank is fully capable of killing Walt. Brandt, on the other hand, knows that her character doesn't have the luxury of focusing on work. "I think Marie is so about family," she said. "I don't think she'd be like, 'Oh, alright, we're definitely turning [Walt] in.' God, that would just be really tough for her. To do anything to make Skyler's life more difficult would be a hard decision for her to make. I just don't know how she couldn't [side with Hank]. I think she would try and be diplomatic about it, and try to encourage Hank to make it as easy for them as he could."
Well, either way, we know things aren't going to be easy down the line for Walt. This season's opener flashed forward to a lonely, grizzled Walt on the run during his 52nd birthday, purchasing a pretty epic gun that might have Hank's name on it. We also know that creator Vince Gilligan probably isn't going to create a happy ending where everyone remains standing, though for some of us — Norris, included — Walt meeting his maker would be a happy ending. "I don't care [who kills Walt], as long as someone gets him," Norris laughed. "He's done a world of injustice for all of those characters."
True, but there is one character who has arguably been screwed over (and kept in the dark) the most — Jesse Pinkman (Aaron Paul). Jesse hasn't had a huge role these last few weeks, but we'd bet on Gilligan giving him a much bigger arc over the last eight. Still, Jane and Brock aside, Brandt doesn't think Jesse has what it takes to pull the trigger. "He wouldn't do it," she said. "Unless he did it in the way that Walt used to kill earlier on — it was like, 'Okay, I have to kill you, because if I don't you're going to kill this person, or me.' That's the only way I could see Jesse doing it. I think after [the murder of] Gale... that changed Jesse."
Arguably, death wouldn't even be the ultimate punishment for Walter White. Earlier in the season, Gilligan showed the White family watching Scarface — a film that helped inspire Breaking Bad, and that also finds its main character with a pile of dead loved ones by the end. Brandt thinks that anyone breaking up or hurting Walt's family would be the most painful ending for Heisenberg, but Norris doesn't quite buy it. "I don't think he cares that much about anyone around him getting hurt anymore," Norris said. "Certainly his relationship with Skyler — I don't get that. I've never 'got' that to a certain extent. She's not interested, and he doesn't seem to even notice that she's not interested. The only way to hurt him would be to hurt his ego, so that he's not this all-powerful guy."
Whether you want Walt to die, or Hank to die, or Walt to go to prison, or everyone to make up and push each other in the White pool with their clothes on, Brandt says you shouldn't latch on to the idea of your personal happy ending — because Gilligan's brain doesn't work that way. "I do think he is [capable of giving us an unhappy ending]," Brandt said. "He's capable. He is not only one of the most talented people you could ever meet in your life, but he's also one of the sweetest. There should be an Emmy for how great it is to work with him. He's just a sweet man, and then you're like, 'You're a freak! This thing you've come up with in your mind — I don't know how it works!' I don't know how his mind works."
Norris agrees. "He might just stick with the bad, because that's what would piss everybody off. But I don't know."
Follow Shaunna on Twitter @HWShaunna
[PHOTO CREDIT: AMC]
MORE: