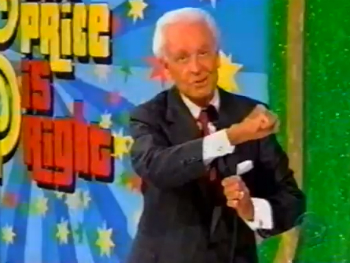 If there's one series you expect to be bereft of all scandals and similar nonsense, it's the Price is Right. It's the show you watch when you're home sick, nursing a cup of chicken noodle soup with a blanket wrapped around your head. Sure, Drew Carey's "have your pets spayed or neutered" doesn't have the same ring as Bob Barker's, but it's still very much a creature comfort. But even the most innocuous shows can be tinged with scandal, it seems.
Just this week, on Sept. 4, The Price is Right aired its 40th Anniversary special and one person was conspicuously missing. Where was the original PIR host, Barker? Fans were incensed at the lack of good ol' BB, and it seems that his obvious absence was not his doing. On Sept. 5, Barker told AP that he was left out by CBS as they prepared for the special, saying producers "chose to ignore me, which is fine."
Barker alleges that CBS left him out because of his strong stance on animal issues – just look at the aforementioned "spay or neuter your pets" line, which was (and still is) repeated at the end of each episode. Despite Barker's accusation, CBS has no comment.
And as ridiculous as this PIR "scandal" may seem, it's actually not the first.
In 2008, the series endured The Great Plinko Rigging Debacle. At the time, TMZ had discovered that the show often rigged the famous Plinko game board for the purpose of filming promotional spots. Using fishing wire, the crew would ensure that game pieces always went into the $10,000 slot for commercial shots. However, in one case, the crew left the fishing wire on and one contestant made it all the way to $30,000 before someone stopped the madness. The contestant then restarted the game in order to re-shoot the scene for television and CBS still gave her the 30k she won due to their mistake. (Of course the show's "cheating" scandal ends in a show of good will and a little TV magic.) 
But wait! There's more: The series also found itself in the middle of scandal after a number of the game show's models sued the series for reasons such as sexual harassment, racial discrimination, pregnancy discrimination, and other forms of exclusion and harassment. For the most part, these cases have settled out of court, but the latest one, filed in Sept. 2011 against producers Michael Richards and Adam Sandler (no, not the famous actors – just two guys who happen to have the same names as two famous actors) by model Lanisha Cole has yet to be settled. Cole, however, has vacated her position at The Price is Right.
Suddenly, the sleepy ol' Price is Right doesn't seem so sleepy after all. Who knows, maybe we'll even see it get its own lawyer spin-off: Law & Order: PIR, anyone?
Follow Kelsea on Twitter @KelseaStahler
[Photo Credit: CBS]
More:
Are Game Shows Sexist? 'Price is Right' Seeks Its First Ever Male Model
CBS's New Shows: 'Partners,' 'Vegas,' and More
'Breaking Bad' Star Aaron Paul Was Once a Contestant on 'The Price is Right' - VIDEO