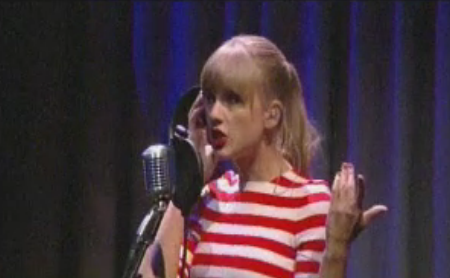 Will we never, ever, ever get back together? MTV's probably thinking that very thing after the announcement of its less-than-stellar ratings for the 2012 MTV Video Music Awards. According to TVLine, the show averaged 6.1 million viewers this year--a fall from the record 12.45 million the 2011 show received. It was the smallest VMA audience in 6 years, with a 50% drop off. Ouch!
The biggest question is: why? How did this happen? The reasons? Well, there are a few factors at play that when combined, resulted in a show without much of an audience. First and foremost, there was the big conclusion of the Democratic National Convention, complete with the nomination acceptance speech of President Barack Obama. Sure, the show ended just before his speech began (something MTV did on purpose to allow people the chance to tune in), but the political arena is a heated one this time around, so people were definitely interested to see more than just the main event. The show also aired on a Thursday rather than a Sunday this year, with an 8PM start time rather than the usual 9PM. As if this wasn't enough, the show had to also compete with a night of out-of-home events centered around Fashion's Night Out, and, well, you can see how all of this works together.
But is that the only thing to blame? This year's show lacked the big names of the show's previous years (Beyonce, Lady Gaga, and Adele were all absent), as well as a real breakout musical phenomenon beyond the tween-centric boy banders of One Direction. Many folks complained of being unaware that the show was even airing--so could a lack of promotion also be to blame? It's tough to say, exactly, but big numbers for the VMAs this year just seemed to not be in the cards.
Did you watch the show this year? Why do you think ratings were down so much? Sound off in the comments!
Follow Alicia on Twitter @alicialutes
More:
The 2012 MTV Video Music Awards Superlatives
'Twilight: Breaking Dawn — Part 2' Trailer Debuts at the 2012 MTV VMAs