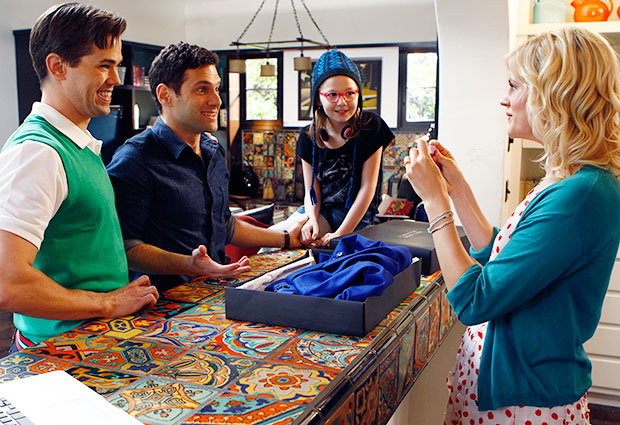 Over the next few months, we'll see new series soar, old series sour, and so much Jersey Shore madness, we'll want to shower. Let's face it: The Fall TV season is intimidating. With dozens of new and returning shows hitting our small screens, we know we have some big choices to make. So, to help you determine what to watch, we're digging deep into the most notable series premiering this season. Where did each show leave off? Where is it headed? And who should you watch it with? Today, we're checking out The New Normal, which — in its premiere season — will determine whether or not Ryan Murphy has the magical television touch that can do no wrong.
Series Name: The New Normal
Premiere Date: Tuesday, Sept.11th at 9:30PM
Catchphrase Everyone Will Be Tweeting: "Abnormal IS the new normal!"
You'll Like It If...: You're a ride-or-die Murphy fan. Fans of Archie Bunker. Vanilla wafer cookie enthusiasts.
You'll Hate It If...: You're easily offended by decidedly un-PC humor.
Cast: Justin Bartha as David Murray, Andrew Rannells as Bryan Collins, Ellen Barkin as Nana aka Jane Forrest, Georgia King as Goldie Clemmons, NeNe Leakes as Rocky, and Bebe Wood as Shania Clemmons.
Synopsis: Set in sunny Los Angeles, the show tells the story of well-heeled gay couple David and Bryan (played by Bartha and Rannells, respectively) whose desire for a baby leads them to surrogate Goldie Clemmons (King), desperate for a life where she's finally in control. Laughs (cheap or no) come in the form of the comedic attempts of Goldie's Nana (aka Jane, played by Barkin) and Bryan's assistant Rocky (Leakes). And just for good measure, a lot of whiz-kid, modernity-laced quips (Twitter! Facebook!) from a wise-beyond-her-years nerdy-type daughter named Shania (Wood).
Star Likely To Out-Fame The Show: Andrew Rannells is a gem — he needs to be on America's TV screen more.
Most Cringeworthy Moment: Almost any scene with Barkin, whose lines seem more fitting for an episode of All in the Family than anything on television in the past 30 years. In the pilot alone, she jabs at gay men, lesbians, Asians, African-Americans, and Jews. The rationale for her quips seem to have no reason behind them, merely shock and awe.
And If Jane Was A Real Housewife: Her catchphrase would be, "I look too good to be a great-grandmother!" with a sassy wink and a hairflip.
Biggest Housewives Similarity: Though Roxy might not be a self-proclaimed "rich b**ch" like NeNe is, she sure will play the part, thanks to gifts her boss doesn't know he's buying her.
High Point: Mini-guest appearances are aplenty just in the pilot alone. Murphy favorites Gwyneth Paltrow and Leslie Grossman do quite well in their brief moments on screen. (We love Mary Cherry forever.)
Who to Watch it With: Your little sister who loves Glee, any Ryan Murphy obsessive you know, grandparents that think bigotry and gay people are JUST HILARIOUS.
Who Not to Watch it With: Pretty much anyone else.
Wine and Cheese Pairing: Straight Velveeta and some Riesling in a baby bottle. Bottoms up!
Most GIF-able Moment: We've got six words for you: midget mom in a Barbie car.
TV Math: (Ryan Murphy - American Horror Story) + Glee's Kurt and Blaine in 15 Years - Singing x √Gay = The New Normal
Is it Worth Watching?: There's always that glimmer of hope one has for a Ryan Murphy show. Keeping with this is not like Glee, which you either hate-watch or tune in for the campy, fun moments that remind you of Murphy's talents. Bartha and Rannells are at least good enough to warrant a viewing of episode two. A Season 2, however...
[Photo Credit: NBC]
Follow Alicia on Twitter @alicialutes
More:
'Glee' First Look: Britney Spears (Songs) Describes The Hot New Photos
'New Girl': Fox Casting VP Seth Yanklewitz Talks Emmy Nods, Season 2 and Guest Stars