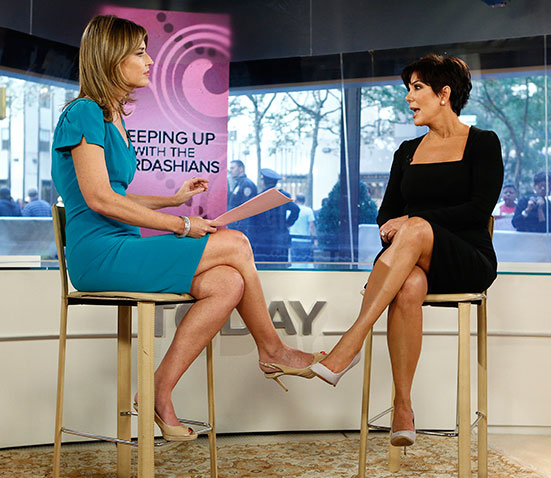 In the breast augmentation interview heard 'round the world,
Kris Jenner
spoke of the decision-making process that led her to share the alteration of her God-given breasts on television. But why was this fairly typical
Kardashians
chat so extraordinary? It took place at exactly 8:46 AM ET... on Sept. 11... as other news networks and series were airing the moment of silence to mark the anniversary of the first plane hitting the World Trade Center 11 years ago. Needless to say, viewers were pretty miffed. Still, in a statement to the
New York Times
, an NBC spokesperson declared that NBC would not be making apologies for ignoring the moment of silence because they had every year since 2006 with the exception of the 10th anniversary. Now, NBC is making apologies — they're just not making them to the audience. The president of NBC News, Steve Capus, sent out a message to NBC affiliates apologizing for the fact that the
Kardashians
interview caused them to endure the wave of media and viewer criticism. According to the
NYT
, Capus wrote,Yesterday, we made an editorial call resulting in the Sept, 11 moment of silence not being seen. While we dedicated a substantial amount of airtime to anniversary events, we still touched a nerve with many of your viewers … and for that we apologize.The memo also stressed the coverage of the attacks on American embassies in Libya and Egypt, which aired the day after the Jenner interview on Sept. 12, before making amends for choosing not to air the moment of silence. Do you think NBC needs to apologize for not airing the silent tribute? Should it only be done on big anniversaries of the event?
Follow Kelsea on Twitter @KelseaStahler
[Photo Credit: NBC]
More:
NBC's 'Today' Skips 9/11 Moment of Silence for Kris Jenner Interview
We Can Thank Mitt Romney for Keeping Jason Sudeikis on 'SNL'... For Now
NBC Can't Catch a Break: Leno's Jokes, #NBCFail & Five Other Criticisms
From Our Partners:

Bill and Giuliana Rancic Share First Photo of Baby Edward Duke — PHOTO
(Celebuzz)

(Celebuzz)