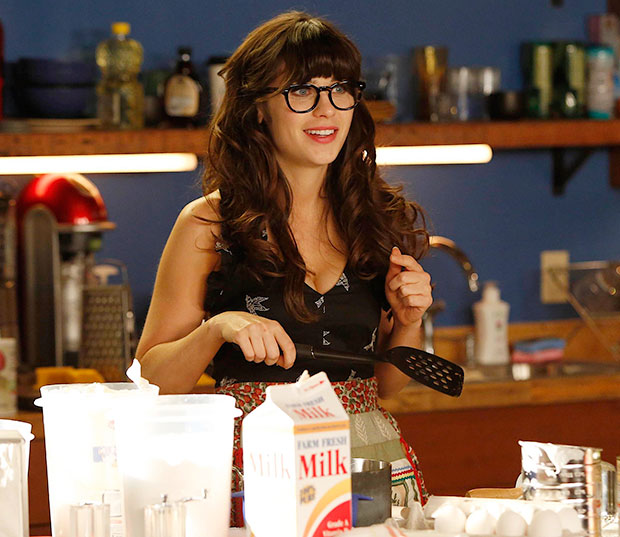 Who's that girl? It's Zooey Deschanel, who hopped on a conference call with reporters to tease the season premiere of New Girl. Of course, being that the real-life counterpart to our beloved Jess is up for an Emmy on Sunday, the topic of her chances and her speech came up. 
Is she prepared for a place on a podium? Not quite. "I've just nervous. I haven't written anything," she says. Between her shooting schedule and the mathematical odds, Deschanel didn't seem to eager to get ready for that dreamy waltz up to the Emmys stage. "I'm sure I'll throw something together, there are so many amazing people in the category … I have a one-in-seven chance," she laughs. But win or lose, New Girl will premiere Sept. 25 with two episodes (*celebratory air guitar*) and things are going to look a little different for Jess. As early sneak peeks have teased, Jess finds herself in a bit of pickle when she loses her teaching job. And it's not going to be a swift recovery for our favorite quirky lady. "It definitely affects her life pretty deeply, because this is something she's wanted to do her entire life and considers teaching to be her calling, so it definitely is a blow to her," says Deschanel. 
But if Jess is anything, it's super positive... about everything. (Remember the incident with the angry and violent guy in the parking lot?) And that's what Deschanel says she loves about her onscreen alter-ego. "I like how Jess is sort of open to things although she's upset about it," she says. "She kind of throws herself into trying to find a new job and is pretty positive about things." But it's not all sunshine and singalongs, especially for Nick-Jess shippers. Creator Liz Meriwether has said it will take a long time to get Nick (Jake Johnson) and Jess together and Deschanel drives that point home. So far home, I think I can hear my little TV-loving heart breaking. "There's no danger of that happening ...They're not ready for each other and nobody's going to push them together," she says.