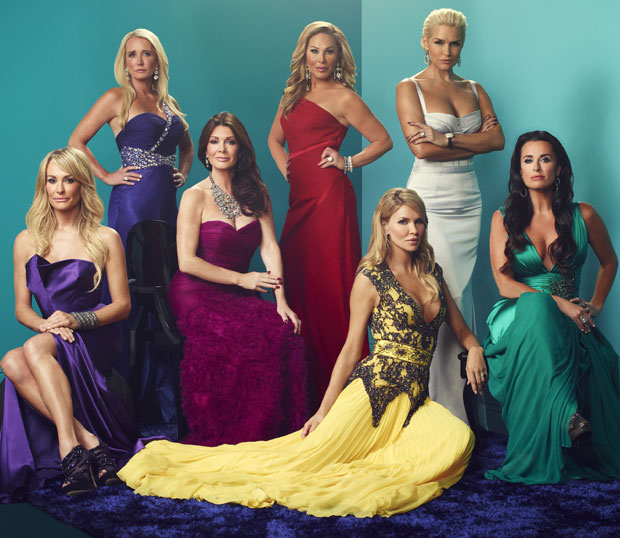 It's been months, absolutely months, since we've been doled out a dose of the greatest American tragedy that is on television today. Yes, I am absolutely shaking with joy (or is that withdrawal?) that The Real Housewives of Beverly Hills is coming back November 5 and that Bravo finally released a trailer for the upcoming season. We have all sorts of things to look forward too (most of them related to Kim Richards and her face lined with survival, regret, and the cheap makeup that she fished out of a dumpster) but here are 31 things from the trailer that really got my lap dog barking. –Kyle Richards being attacked by meat.
–Suzanne Somers talking about her lady parts.
–Kim Richards. Not anything specific, just Kim Richards.
–St. Camille Grammer making out with a hot dude who may or may not be a statue come to life.
–Kyle Richards shoving her coochie in the air, again.
–Paul Nasiff in Maloof hoofs.
–Fireworks!
–Lisa Vanderpump in a girly swing that looks like it's from some fake Victorian masterwork that your great grandmother had in her parlor.
–Giggy!
–Ken and Lisa engaging in the sacred Real Housewives ritual of renewing their vows. It looks chi chi chi chi chi chi.
–Ken being wheeled on a gurney. Heart attack or plastic surgery (and am I going to hell for asking)?
–Watching Kim Richards get a nose job on live (taped) television.
–Watching Kim Richards in recovery. No, from the nose job!
–Watching Kim Richards smoke an electronic cigarette. All students of Real Housewives of Beverly Hills know the electronic cigarette bestows magic psychic powers on the smoker.
–Brandi Glanville confronting the other woman.
–Brandi Glanville crying, the saddest sight in the world.
–There's no Dana/Pam. Where is Dana/Pam? Should I be excited that she is gone? I am conflicted.
–Kim and Kyle Richards talking about recovery, not from a nose job edition.
–Kim Richards relapse scare!
–You see that lady who appears to be Alex McCord's wealthier younger sister. That is in fact a new housewife named Marisa Zanuck. She works with Kyle's husband Mauricio. She doesn't say or do much though, so she may be boring.
–There is another new housewife, Yolanda H. Foster. The H stands for "hatred" because she does not like Adrienne Maloof, the queen of the Maloof people that live under the mountain. Oh no, she does not.
–The H also stands for hatred of Taylor Armstrong, who Yolanda H. Foster also hates. Hates!
–Speaking of Taylor, she's in a fight with some old gay pianist. Is that Michael Feinstein? They all look the same.
–Lisa and Brandi are allies now!
–Paul is going to come for Brandi. Brandi will win.
–The gesticulating football that is Faye Resnick!
–Everyone hates Paul, who looks like a Great Dane who learned to walk on two legs (and in high heels).
–Real Househusbands fighting.
–Adrienne's house is on fire.
–No, I mean the house is actually on fire with flames, and not of hatred Miss White style.
–Kim Richards, at one point during the season, is going to be compelled to say, in a sexy voice, "Boom boom she bang." I don't know what would compel her to do this, but it is, already, the highlight of my year.
Follow Brian Moylan on Twitter @BrianJMoylan
[Photo Credit: Bravo]
More:
2012 Emmy Longshots: Great American Tragedy 'Real Housewives of Beverly Hills'
Watch 'The Real Housewives of Beverly Hills' Discuss Russell Armstrong's Suicide
'Real Housewives of Beverly Hills' Star Kim Richards Admits She's an Alcoholic