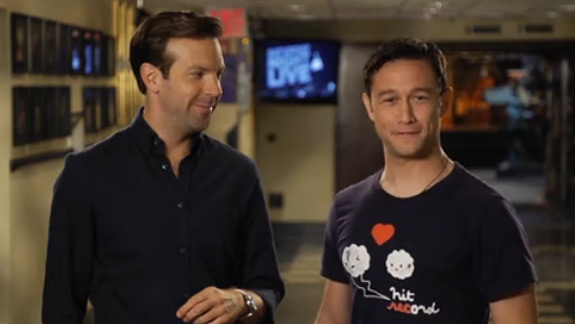 Yes, we're all still upset that girl crush poster woman Kristen Wiig is no longer on Saturday Night Live. But this week, I'm finding myself mourning the absence of another former leading lady from the sketch comedy show: Abby Elliott, spawn of Chris and impressionist extraordinaire. Why? Well, because that's the only way we could ever expect a 500 Days of Summer sequel.
So, yes, without Elliott's eerily accurate take on Zooey Deschanel, Looper star Joseph Gordon-Levitt's role as host got a little less funny. Still, with musical guest Mumford & Sons, we can expect an affair deliciously hipster enough to make Björk squeal. (But wait — she's gone too! Guess we'll have no choice but to befriend clouds.)
And if Gordon-Levitt brings as much enthusiasm as he did during his first hosting stint in 2009, we'll likely squeal too. (But we'll be much louder if he finally decides to take off his shirt.) Though his promos released earlier this week were a good indication of charming silliness to come, how will he top his "Make 'Em Laugh" monologue? Holy, conundrum, Robin!
We'll be tuning in to see how the star will ninja his way into our comedy-loving hearts. Will you? Come back here tomorrow for Anna Brand's recap of the episode, and, in the meantime, finish refurbishing your cable spool table.
[Image Credit: NBC]
More:
Saturday Night Live Weekend Update Thursday: Let's Get Political!
Saturday Night Live Promos: Joseph Gordon-Levitt Will Cut Himself in Half — VIDEO
Saturday Night Live Recap: Seth MacFarlane Gets Laughs and the Boys Take Over