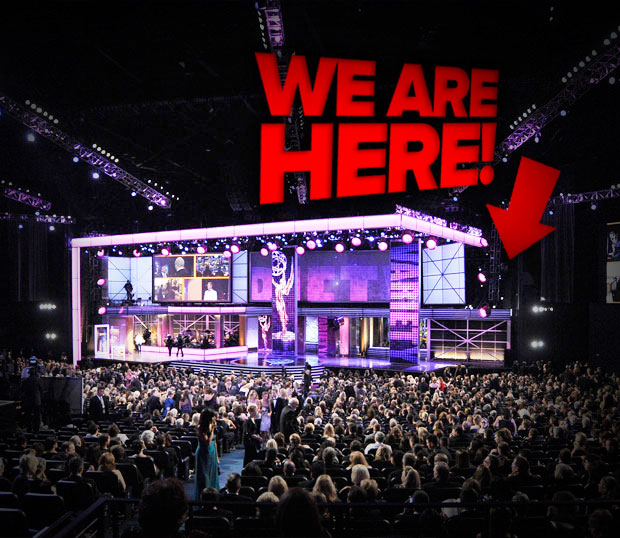 Television's biggest day is finally here — all of your favorite stars have braved a brutal Los Angeles heat wave for a shot at Emmy gold. Hollywood.com did too, and we're armed and ready to bring you all of the latest scoop from the winners backstage. Will we be hamming it up with Jon Hamm, or breaking bad with returning champ Bryan Cranston? Will Mad Men take the top drama prize again, or can a newbie like Homeland or Downton Abbey pull an upset? Only the Academy knows for sure, but be sure to check back here for frequent updates — live from the winners backstage! To be continued...
Outstanding Supporting Actor in a Comedy Series Eric Stonestreet:
On who he is excited to see tonight: "All of the cast of Modern Family. They are my family, and we are each others' family. We know this isn't going to last forever, and will be the old show in a couple of years, or next year even. I was pulling for Jesse or Ed tonight, and I know Julie was pulling for Sofia."
On mood on set after beating co-stars Ed O'Neill and Jesse Tyler Ferguson: "It's going to be pretty violent, for sure. I'm sure Ed is going to do is Brazilian Jiu Jitsu on me, and Jesse is just going to cock his hip or something. No, we love each other, and there is no competition at all between us."
On his pre-Emmy ritual: "The Emmys are on a Sunday, so there's football on. I watched football in the morning and saw my Kansas City Chiefs beat the New Orleans Saints."
Outstanding Supporting Actress in a Comedy Series Julie Bowen:
On co-star Sofia Vergara's lack of Emmy wins: "She doesn't get the credit she deserves as an actress... there's only a few of us who understand that what she does isn't just play herself. I owe her a lot.... [but] she has a lovely, lovely life. I think rewards come in all different ways. She's getting rewards in other areas in her life, but she deserves one of these as well.
On what she's learned from her on-screen character, Claire: "Claire is a great mom, and she's taught me to be ballsy, and that you don't have to be your kids' best friend. That you don't have to look at every crayon drawing and frame it. Claire has given me that confidence."
On where she'll keep her Emmy: "Out of reach of my son Oliver, who broke the last one."
On the importance of comedy in today's world: "I love that both Ann Romney and Michelle Obama said that Modern Family is their favorite show… laughing is the only thing that matters."
Outstanding Lead Actor in a Comedy Series Jon Cryer:
On being surprised to win: "I am as shocked as you people. That's all I'm going to say. That's why my speech sucked...Who did I think was going to win? I thought Jim Parsons was going to win again. Big Bang is at the top of its game right now, and he has unfortunately not gotten any worse, so I thought this was going to go to him. I apologize for this speech.
On transitioning to lead actor: "When Charlie [Sheen] and I were doing the show together, the show really rested on Charlie. The show was structured around his character. It felt silly to be in [the lead actor] category… they've restructured [the show] and it's been more of a partnership, and it's been a blast."
On his chemistry with Ashton Kutcher: "With Charlie, [the chemistry] was automatic, you never had to think about it. With Ashton, we're always working on it, and coming up with new stuff. We rehearse a little more. It's a blast."
On Miley Cyrus' hair: "I know her haircut is very controversial, but I love it. I lay on the side of I think she looks fantastic."
Outstanding Lead Actress in a Comedy Series Julia Louis-Dreyfus:
On her plans for tonight: "How will I be celebrating? I'm going to have a glass of wine. My husband and I brought our 15-year-old son to the show tonight, so it's very exciting that he's here. He'll go to the Governor's Ball with us, then he'll go home because he has school tomorrow. Then his dad and I are going to live it up a little."
Outstanding Host for a Reality or Reality-Competition Program Tom Bergeron:
On the toughest part of hosting live: "I would have to be making things up… the truth of the matter is, [hosting Dancing With The Stars] is the most relaxed part of my day. I love live television. They've created an incredible playground for me… I am never more comfortable than when I'm onstage live on that show."
On the all-star he is most looking forward to seeing again: "If I answer that question, I piss off twelve people. I'm looking forward to all of them equally."
Outstanding Supporting Actor in a Drama Series Aaron Paul:
On whether he thinks fans would be upset if Breaking Bad had a happy ending: "Yeah. I think so. I don't think that's what our fans want. It's not going to be a fairytale ending. I hope Jesse survives. I think he deserves to survive. But we'll see."
On his reaction to winning for a second time: "In my speech, I was out of my head. I truly was not expecting this whatsoever, so I didn't prepare anything. I was shaking and trying not to sob."
On what he said to co-star and co-nominee Giancarlo Esposito: "I cried in his arms, and said, 'It doesn't make sense to me that I was on that stage and you were not.' I didn't know what to say to him. What he did with Gustavo Fring is impeccable."
Outstanding Lead Actor in a Drama Series Damian Lewis:
On the public's reaction to his character: "I still get jokes going through airport security: 'Have you got a vest on?'"
On his competition, Bryan Cranston: "I've been getting to know Bryan in the circus that is pre-awards merry-go-round, and what just a sweet, lovely, funny man. I love him already. I was quite convinced that he'd be walking up tonight again... I've been catching up on Breaking Bad, mostly out of politeness. I feel like I should see what my competitors are doing."
On the state of America today: "I think there is a particular polarization in your political landscape at the moment... but hey, that's the same in my country, too. I think 9/11 changed the world, and when people have not been at their best, they've behaved badly. And I mean us. I mean the west. We're doing the best we can after an atrocity that changed the world 11 years ago."
Outstanding Lead Actress in a Drama Series Claire Danes:
On President Obama being a fan of the show: "No pressure, you know? It's way cool that he is a fan. I think it speaks to the relevancy of the show. It's hugely validating. I don't have to write the thing, I just have to play it somewhat convincingly… it means so much to us. We're stupefied by the fact that he's tuning in consistently."
On why Homeland is so popular: "It's not preachy. I don't think it's a particularly political show. I think it's a psychological thriller… it doesn't take a very biased position, but it does speak to our feelings about anxiety and unrest right now. We're in a new era where the enemy is not so clear."
Outstanding Lead Actress in a Miniseries or a Movie Julianne Moore:
On why she chose to star as Sarah Palin in Game Change: "This is an examination of how we pick our leaders. That to me is what was so compelling about this film."
On who she forgot to thank: "I wanted to give a shout out to Tina Fey and Katie Couric. Certainly in my research, when I saw how influential they were [on the 2008 election], it was really quite impressive."
Outstanding Supporting Actress in a Minseries or a Movie Jessica Lange:
On season two of American Horror Story: "It's a more complex story [this year]. Ryan [Murphy] likes to create these things around themes. Last year it was infidelity, this year it's around faith and madness. I think the themes are bigger this year, which allows for all of us to go further. My character goes from A to Z in this one."
On working with Ryan Murphy: "It's very exciting. I never know exactly where he's going with his characters, or with the story. It's always surprising. 99 percent of the time, it's very rewarding. He's got an amazing imagination, and that translates to the writing. It gives me a lot to do. It's a great collaboration."
Outstanding Comedy Series Modern Family:
Steve Levitan, on his speech getting cut off: "I tend to be long-winded, so I think I got what I deserved."
Eric Stonestreet, on living in the moment: "We know that it will eventually not be this way, and you will hate us all."
Sofia Vergara, on her Emmy experience: "Even though Julie keeps winning all of my awards, I am still very happy and I will still keep coming."
Outstanding Drama Series Homeland:
Claire Danes, on ending Mad Men's reign: "Well, we didn't make our show just to undermine them. We're delighted and thrilled, and I think a little startled by this. I don't think anybody was expecting to be recognized this way right off the bat. But it feels pretty nice!"
Mandy Pantinkin, on working with Claire Danes: "It's like a magic trick, watching her. Not just her, the whole company."
Outstanding Lead Actor in a Miniseries or a Movie Kevin Costner:
On his best real-life moment: "I was raised in a very conservative way, and the day I told my parents I was going to act was a really momentous thing, because my father turned around and said, 'What? How are you going to do that? How are you going to make a living?'... I grew up in a very blue collar background, and I'd gone to college, and in his mind I was throwing it all away. I know a lot of younger people rebel a lot earlier in life… I was never that. There was a moment where I knew exactly who I wanted to be… that was a huge moment in my life, when I declared who I was."
On what's next for him: "I have been writing a lot of things. In the last five years I haven't worked very much. I had three babies with my wife. All that time I had been writing, and looking to direct. Writing some television also, because that's the way the stories were working out. My children, I'm not certain that they know I'm an actor. My five year old and my three year old think that I'm in construction, because of the building of the homes that we're doing right now. Hollywood works off perception, so I know what success means to people who deal with perception. I believe in the writing, and writing has propped my career up. My whole career. I'm a writer-oriented actor. When I find good writing, I don't care in what medium it sits. I love the community. I'm a real romantic about Hollywood, but I've always also been a bit outside of it. I play to go into heavy work mode. I'd like to direct more features, there's a television show I've been developing..."
Follow Shaunna on Twitter @HWShaunna
MORE:
This Is the Best Emmy Acceptance Speech Ever
Emmy Idle Threats: Give 'Game of Thrones' Emmy Gold or I'll Give (?) a Crown of Gold