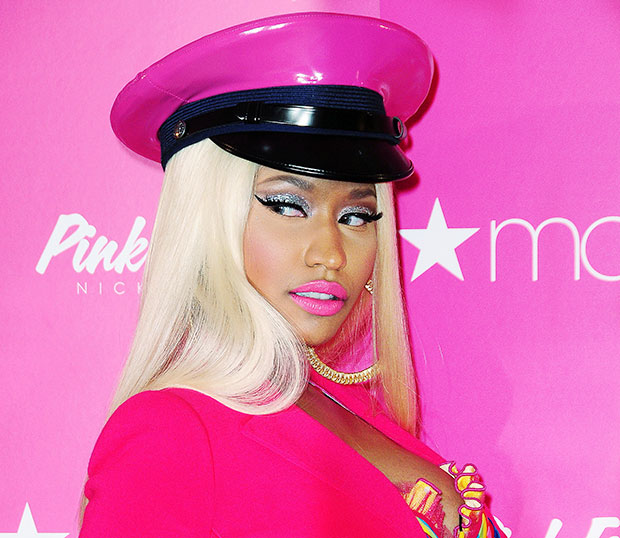 We expect cat fights, fist fights, slap flights, screaming matches, and the occasional thrown table when we sit down to watch a reality show. That's why we're here: We want the expected unexpected. We expect to see a girl faint on stage. We wouldn't tune in if every reality show cast member was there to make friends. We would tune out if we didn't see some personality waltzing around in a very poorly chosen outfit doling out even worse lifestyle and fashion tips. Still, each reality sub-genre considers some of those tropes off-limits. And for 
American Idol
, fans
were
never privy to knock-down drag-out fights.   But according to some boisterous bootleg footage from the in-progress
Idol
auditions circuit, that limit has just been breached. The video (below) shows
Nicki Minaj
 going off on fellow judge
Mariah Carey
, so much so that Randy Jackson is forced to stand up and try to quell the verbal brawl with the power of "Yo, dawg." There are "f**ks" and "s**ts" unleashed all over the place, and Mariah is left to respond with nothing more than "Oh. My. God." Over and over again. Although the reality lover in me gets a slight kick out of watching the innocuous
Keith Urban
try to exist in the crossfire of the diva spat, this is not the
American Idol
we signed up for. Last I checked, the biggest barbs being thrown consisted of Jennifer Lopez telling her fellow judges they were just interested in sexy girls, and before that, Kara/Paula/Ellen telling Simon Cowell he was a big ol' meanie for being honest to some sad sack. That was it. Occasionally, you'd get a crazy contestant who'd fight back with their ineffectual (and often poorly-chosen) words and stand on the tiny auditions stage until someone came and Steve Wilkos-ed him or her off the stage, but for the most part we — and
Idol
's producers — patently rejected that nonsense. (Otherwise, we would have most definitely seen footage of Nikki McKibbin and Ryan Starr's
supposed Season 1 brawl
.) And that's not because
Idol
is this mythical land where we run on only good feelings and the hope of future stardom. We may be starry-eyed and willing to accept a whole host of televised facades when we sit down to watch an episode of
Idol
, but we're cynical enough to know what's happening. There are going to be contestants whose sole purpose is to be exploited by the editing team and Ryan Seacrest's seemingly mundane commentary with underlying digs. And occasionally, the show might present a cliffhanger about a girl falling off the stage. But straight up,
Rock of Love
-level screaming matches is where fans may the line. After all, when the going gets contentious and, frankly, a little vicious, it changes the entire mood of the show. That's why, while I'm sure working with the most divalicious pop star out there might get on Minaj's nerves occasionally, these little spats need to stay out of the audition episodes come January. The last thing this wildly distorted version of the original
Idol
needs is to go so far in the other direction that it becomes ugly. Sure, it will grab headlines, but it's not going to keep eyes on the series. People will tire of this. What people (apparently – double seasons of
The Voice
?) don't get tired of is the process of celebrity expertise guiding normal people into the short-lived spotlight. Seriously.
The Voice
is a fire-breathing ratings dragon, taking down all in its path these days. People want the good feeling. Not the nastiness. Even Cowell is getting in on that action over at
The X Factor
.
Idol
already gave up its claim on having a unique panel. They've jumped into the boat with the other big singing competitions. And while being the mean kid in town will set the series apart, it's possible it will be set apart from the fans who've stuck with it through all its growing pains (and maybe secretly got a kick out of Katy Perry berating Kara DioGuardi in Season 9 – but that's a
sometimes
guilty pleasure, not a staple). Look, Minaj is probably going to be a bit of a firecracker. That's why she was hired. We know this. But there's a difference between being a little spicy and sassy and throwing a hissy fit. If all goes well, this video is just the sad result of a day when the rapper didn't get her morning coffee, or perhaps the wardrobe department put her in some sort of fashion-forward contraption that's making sitting on a panel for hours unbearable. Bottom line: Don't let
Idol
devolve further into reality oblivion. Keep these little incidents where they belong: on the cutting room floor.
Follow Kelsea on Twitter @KelseaStahler
[Photo Credit: WENN]
More:
'American Idol' Judges Announced: Nicki Minaj, Keith Urban, and Randy Jackson Join Mariah Carey
First Pic of 'American Idol' Judges All Together!
Does 'American Idol' Need an Electoral College?