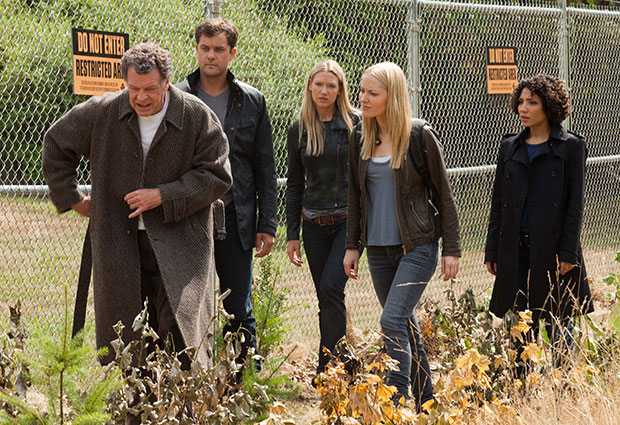 A brief confession: I am one of the lucky few who has already seen tonight's installment of Fringe — "In Absentia" — and I find it safe to say that it's one of the series' best. Ever. In fact, in my book, it's right up there with Season 3's "Entrada." Not because of any heart-stopping action sequences or mind-blowing plot twists (though the ending does set the trajectory for the rest of the season), but because of the intense, impossible moral ambiguities brought on by the characters' new dystopian surroundings. The premiere introduced us to the harsh reality of this new world, while the second episode dives right in to the difficulties in maintaining your humanity while fighting (and dying) for a cause. The Fringe team is no longer a government(ish) entity with a set of rules and code of ethics — they're the outlaws now, and not every enemy they come across will be a black and white, monster of the week type villain. Hard decisions will have to be made, and some of them — like this week's — will be heartbreaking.  Anna Torv and Georgina Haig in particular give stellar performances, and when Hollywood.com visited the Fringe set in Vancouver last week, Torv, John Noble, and Joshua Jackson all had a lot to say about the twisted nature of this season's beast.
"In Absentia" finds Olivia dealing with her daughter, Etta's, rage. Olivia wasn't there to raise this girl, so let's just say she's more than a little shocked when she learns about Etta's attitude towards human-on-human violence. Still, Torv maintains that in order for the Fringe team to be successful, she'll need to trust her daughter's instincts. "Olivia doesn't know this world," she said. "Etta absolutely has more of a handle on what's going on — what the right protocol is or how to do it. She really is the one that everybody's looking to for answers, and following."
Jackson agrees that Etta is a necessity — because she teaches them how to live the insurgent's life. "We're completely overwhelmed," he said. "We don't really know what we're doing, and we're exposed at every moment. In the first four seasons, Fringe is the establishment. It's got the nice, shiny glass office. And now, we're the rebels — we're the insurgents."
Despite the fact that Etta is okay with certain "tactics" that the others find appalling, Noble says the new Fringe team needs to stick together, because the Observers are still their common enemy. "These people have now become the rebels," he said. "They as a team, and individually, are public enemy number one. They will become tense, and they will become frustrated with each other, but then they have to come back and bond together. We're forced, in a sense, to be the bad guys in the world."
Because if they don't stay together, an Observer could be waiting on any corner, ready to blast any one of them to mental smithereens. Unfortunately, Jackson says that something along those lines will happen in an upcoming episode. "I mean, we have a scene — with a character who I will not name, doing a thing I can't tell you about — where that scenario plays out," he teased. "It's just a small, quotidian thing. One break from the routine leads to disaster. I mean, really f***ing major disaster."
Fortunately, Jackson told us that good is on the way, too — in the form of some long overdue major payoff for dedicated Fringe fans. "The thing that we reveal in the episode that we're shooting right now... if you're geeked out on the mythology of the show, is going to be one of those knock-your-socks-off moments," he said. "We've mined our own history well for things going forward. Something that seemed incidental is going to come back to be crucial. Ultimately it gets one of our characters to his or her natural finishing state in a way that is going to make the original intention — or that thing that seemed incidental — seem so f***ing cool!"
Ugh, now I can't wait. But I'll leave you with this — tonight's episode, as we mentioned before, sets the team on their final trajectory. Noble gave us some clues as to what that trajectory is, and what struggles it will bring. "We're going after these bizarre clues in very strange places," he said. "Because Walter, being Walter, has hid them in weird, weird places. Very strange places. They have a plan that will defeat the Observers, but they've got to get all of these pieces together, and Walter is struggling with his lack of memory. And the fact that they are rebels lifts the ante a lot. It's a really exciting journey."
Fringe will air tonight on FOX at 9 p.m. ET/PT. In the meantime, check out this fun (and mysterious!) teaser:
Follow Shaunna on Twitter @HWShaunna
[PHOTO CREDIT: FOX]
MORE:
'Fringe' Star Anna Torv: 'I Don't Mind' If Olivia Dies
'Fringe' Premiere Recap: The Future is Dark, and Really Crappy