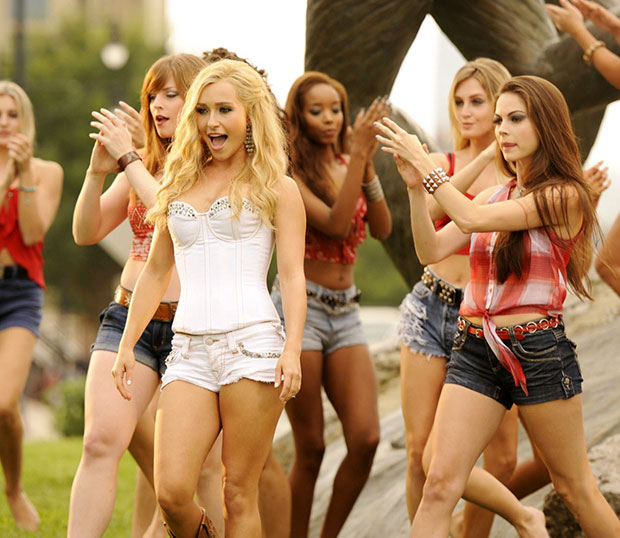 Over the next few months, we'll see new series soar, old series sour, and so much
 Jersey Shore
madness, we'll want to shower. Let's face it: The Fall TV season is intimidating. With dozens of new and returning shows hitting our small screens, we know we have some big choices to make. So, to help you determine what to watch, we're digging deep into the most notable series premiering this season. Where did each show leave off? Where is it headed? And who should you watch it with? Today, we're going on down to
Nashville
to determine if
Connie Britton
and
Hayden Panettiere
are tens to see in Tennesee. 
Series: Nashville
Premiere Date: Wednesday, October 10 at 10 PM ET on ABC. 
Cast:
A veritable who's who of actors with a rich TV history. There's the aforementioned Connie Britton (
Friday Night Lights
,
American Horror Story
) and Hayden Panettiere (
Heroes
), as well as 
Eric Close
(
Without a Trace
,
Suits
),
Charles Esten
(
Big Love
,
The Office
),
Jonathan Jackson
(
General Hospital
), and 
Powers Boothe
(
24
,
Deadwood
). 
Synopsis: Country music superstar and the daughter of a prominent Tennessee business man, Rayna James (Britton) is struggling to stay relevant in an evolving industry overrun by up-and-coming pop princess crossover stars who rely on autotune and Daisy Dukes rather than genuine talent. Enter Juliette Barnes (Panettiere), Nashville's version of Taylor Swift gone very, very bad. When Rayna's album and tour sales flounder, her record label suggests she go on tour with the young country diva. As Juliette, who is dealing with some familial demons, plots and schemes to take away Rayna's band leader — and ex-boyfriend — Deacon (Esten) and just about every other man in Tennessee, Rayna must choose whether she is willing to save her career by opening for her new rival. She must also decide whether to save her marriage as her husband, Teddy (Conrad) is persuaded by her father whom she has a troublesome relationship with (Boothe) to step out from her spotlight and run for mayor. There's some major drama, y'all. 
Key Soundbite: "Why do people listen to that adolescent crap? It sounds like feral crap to me!" Rayna's musings on popular stars like Juliette, who, unbeknownst to Rayna is within earshot. 
You'll Like It If: You like Connie Britton. Which, assuming you are not a cyborg,  you do. 
You Won't Like It If: You don't like Connie Britton. Which can only mean...everybody run! The cyborgs have taken over!
Who To Watch It With: Your country music-loving friend/relative/coworker you didn't have a damn thing to talk about with. Until now. 
Who NOT To Watch It With: Your younger or older rival. 
What To Wear While You're Watching: Rayna isn't ready to hang up her rhinestones, and let's be honest, neither are you. Plus, you can finally wear those red cowboy boots that you are totally pulling off. 
Do the Math: Country Strong
-
Gwyneth Paltrow
suicide plot twist x
Crazy Heart
/ (alcoholism and
Maggie Gyllenhaal
) + even more slide guitars =
Nashville 
Build a Playlist: Nashville has some wildly catchy and beautiful original tunes of its own, but take Rayna's cue and give a listen to her classic picks like Tammy Wynette's "Stand By Your Man" and John Conley's "Rose-Colored Glasses". 
Characters to Watch Closely: Gunnar (Episodes' breakout star Sam Palladio) and Scarlett (Home and Away beauty Clare Bowen). Sure, all the big drama that gets our pulse racing will revolve around Rayna and Juliette, but expect a slow burn from these sexy, soulful singers to be the will they/won't they couple that keeps our hearts fluttering. In addition to giving each other the googly eyes, their voices will make you yearn for a Nashville soundtrack or tour ASAP. 
Who To Follow on Twitter:
Hayden's bratty, flirty character may seem insufferable, but in real-life the actress is anything but
on Twitter
. The starlet has been sharing a ton of on-set pics and scoop before the show has even premiered, so imagine how many juicy details we'll get throughout the season. 
If You Like This, Netflix These: Friday Night Lights complete series, Dallas, Austin City Limits, Nashville Star, Shut Up and Sing 
Follow Aly on Twitter @AlySemigran
[Photo Credit: ABC]
More:  
30 Rock Is Back, Nerds!: Everything You Need to Know Before the Final Season