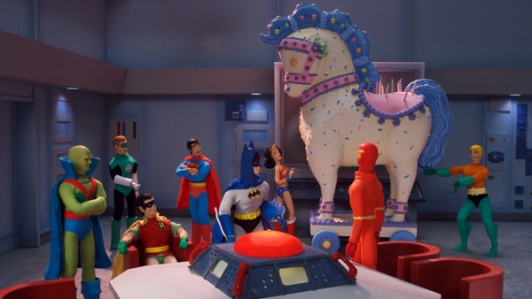 Of all the creative giants to take their respective properties to New York Comic Con, Seth Green is consistently the most enthusiastic about the journey. In 2011, Green and his Robot Chicken cast visited NYCC to discuss their beloved Adult Swim show, bringing surprise guest star Macaulay Culkin along for the ride (to hilarious, and very moist results). Green, Culkin, and the Robot Chicken team returned to the IGN Theater of New York's Javits Center on Friday night for NYCC 2012, to discuss the ever sparkling future of the animated spoofs series. Among the bits of celebrated news delivered by Green: Robot Chicken has been renewed for a seventh season.
Season 6 of the program premiered last month, and apparently has a ton of enticing story ideas yet to broadcast. For instance, as Green and company reveal, a Star Trek-themed rap about the anatomical makeup of robot Data, as performed by music artist Ke$ha. And on the topic of rap, the series has cast RZA in a "pescatarian"-themed sketch, and is planning a particularly interesting duet in the pairing of one 50 Cent with an artist known only as Parappa the Rapper. But best of all, Robot Chicken advertised an upcoming parody of the cult phenomenon The Cabin in the Woods, with the guest voice talents of the great Joss Whedon... playing Zombie Joss Whedon.
Additionally, the Robot Chicken team plugged and shared footage of other sketches to come, the subjects of which include Pinky and the Brain (having a night on the town), the sexual escapades of Mario and Luigi, and the quinceañera of Dora the Explorer. Plus, the troupe promised a forthcoming Christmas special (which, from the looks of a brief clip, embraces a good deal of violence), and suggests the probability of a second DC Comics-themed episode.
Beyond the announcements, the panel proved a lot of nerdy fun. Proving that Comic Con is the truest Mecca of geekdom, the entire crowd erupted in a crisp, simultaneous "Woo-oo!" immediately following Green's singing of the Duck Tales refrain. "It feels good to be amongst friends," the creator beamed proudly.
All this, plus a Family Feud-style tableau photograph of the Robot Chicken cast, an exchange of hugs and Millennium Falcons between the cast and some very emphatic fans in the crowd, and Green's adamant declaration of, "I don't like Jersey Shore," made for quite a spirited Robot Chicken panel. Sure, Macaulay Culkin didn't lick Seth Green this year (as he did last), but it was still pretty much a win.
[Photo Credit: Cartoon Network]
More:
'The Walking Dead': Norman Reedus on the 'Season of Rage' and Merle's Return
USA Renews 'Suits' For Season 3
'It's Always Sunny in Philadelphia': Everything Old Is Ewww Again