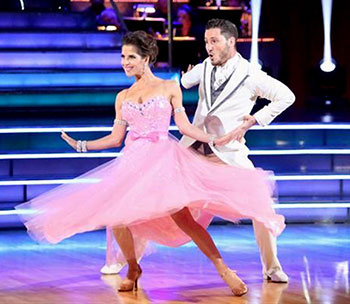 This week, there are two reasons to tune into Dancing with the Stars: All-Stars: Not only will Monday night feature guest judge Paula Abdul, but this season is turning into a nail-biting competition. (Just see Sabrina Bryan's surprising flirt with danger last week.) On Tuesday, America said goodbye to two previously winning teams: Drew Lachey and Anna Trebunskaya and Hélio Castroneves and Chelsie Hightower. This week, will another former winner be sent packing? And while Kelly Monaco, Season 1 returning champion, hopes it's not her, she's realistic about the competition. "Somebody has to go home every week," Monaco tells Hollywood.com. "People are disappointed that people go home, but it's a dance competition. It's the nature of the beast. Everyone is expecting somebody to get eliminated. Everyone is expecting someone to be in the bottom two."
And Monaco often thinks that she herself could be in the bottom two. Though the General Hospital actress scored a 27 out of 30 possible points and tied with Melissa Rycroft at the top of the competition, she still doesn't even feel safe. "The show isn't just based around your dancing ability," she says. "It's a popularity contest as well as a dance contest, and everybody in this contest has been through this before. Nobody is safe, ever. I was just at the top of the leaderboard, and I certainly didn't feel safe."
Still, it's hard to believe Monaco would fear for her DWTS safety when less skilled dancers — like Bristol Palin, who finished last on the leaderboard with 22 points last week — continue to score below average. "She's got a huge fan base," Monaco explains. "She represents young mothers out there who have a goal, and she's trying really hard. It's super commendable, and it takes a lot of bravery to get out there. She's awesome."
And Monaco also has to watch out for the more skilled dancers competing. "I'm not comfortable with any of these dances," she admits. "Seven years ago, I danced for six weeks [when she won Season 1 of DWTS]. I haven't danced since, so everything is new to me. Every week is a challenge. Every dance is new."
So how does Monaco cope with the stress of an unpredictable competition? The actress' philosophy: Just to have fun. "I'm just out there having a good time," she says. "I don't feel any pressure to win. It doesn't really matter at this point. If we're having fun and enjoying each other, [it's] kind of a our journey, you know?
Be sure to catch an all new episode of DWTS Monday night at 8 PM on ABC.
Follow Lindsey on Twitter @LDiMat.
[Photo Credit: ABC]
More:
'Dancing With the Stars: All-Stars' Recap: Peter Pan, Living Statues, and a Donkey
'Dancing' Backstage With Louis van Amstel: Is This The Most Emotional 'DWTS' Season Ever?
Melissa Rycroft Shares Her DWTS 'Breakdown' and an Emotional Decision
From Our Partners:

Miranda Kerr, Alessandra Ambrosio, and Erin Heatherton Talk Seduction, What Makes the Victoria's Secret Angels Swoon — VIDEO
(Celebuzz)

David Beckham Spends $700 on Clothes for Baby Daughter, Harper — EXCLUSIVE
(Celebuzz)