It's that special part of the day again: time for television tidbits! Tonight's savory television bits come from all over the world: from Briarcliff Manor to a kitchen in the United Kingdom, our small screen news knows no bounds. So let's dig in before it gets cold!
From Walking Dead to L.A. Noir: Former Walking Dead showrunner Frank Darabont has gotten his period drama L.A. Noir picked up for a six episode run on TNT. It stars Walking Dead's Jon Bernthal as an ex-Marine working for the LAPD in an era run rampant with corruption of the police variety of the 1940s. The true story series will tell the tale of the conflict between the LAPD (under the helm of Police Chief William Parker, aka Justified's Neal McDonough), and the criminal ring run by Mickey Cohen, a former boxer-turned-top-banana-crime-boss. [TVLine]
Dylan McDermott Returns to the Horror Story: Current television king Ryan Murphy has taken to his favorite place of news-breaking (the almighty Twitter) to announce the guest star casting of Dylan McDermott on American Horror Story: Asylum. Though no one knows what his role will be (or how involved it will be in the story line this year), it seems certain that it will probably involve a lot of creepiness. Fingers crossed he takes his shirt off, too (naturally).
So thrilled to announce Dylan McDermott is returning to American Horror Story!
— Ryan Murphy (@MrRPMurphy) October 17, 2012
Ahhhh! More Monsters: TNT has put Frankenstein into development—a drama series based on the novels of the same name by Dean Koontz, which have sold more than 20 million copies. It will be a modern-day retelling (of course! Aren't they all?) of the Frankenstein myth, set in New Orleans. Following Victor Helios (Frankenstein) and his creepy creation 200 years after they thought they killed each other (but had not!) in a battle in the Arctic, the two end up in the same city unbeknownst to them. Victor has created more monsters that heed his beck and call, and once the original creature learns Victor is alive, a big ol' battle ensues. [Deadline]
CBS Orders British Cooking Competition: CBS is getting into the cooking competition game, giving a series order to Bake Off, an adaption of BBC2's The Great British Bake Off. The series has been a breakout hit in the UK as well as Denmark and Sweden, and will feature amateur Americans taking part in several baking challenges, with one being crowned the winner. Tasty! [Hollywood Reporter]
Mad Men Gets Lei'd: Apparently the season 6 premiere of Mad Men will start up with a cool drink of the tropical sights of Hawaii! Apparently Jon Hamm and Jessica Pare are leaving on Sunday for a small trip to shoot on the multi-island state. A second honeymoon for the Drapers, perhaps? Looks like creator Matt Weiner is putting that substantially increased budget to use. [Dealine]
A Marriage on Modern Family?: Earlier today, Modern Family star Jesse Tyler Ferguson tweeted a picture of himself and Eric Stonestreet underneath what looked like a marital arch. Could wedded bliss be in the air for the pair? Ferguson's not fessing up, but the image did come with the caption: "It's not what it looks like. Or is it? Guess you'll have to wait to find out!"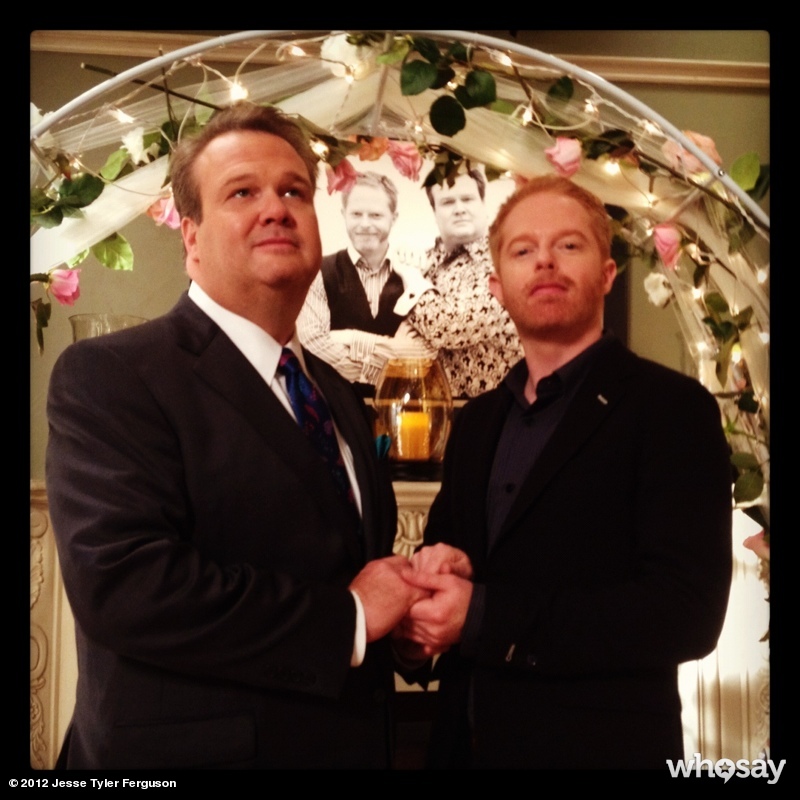 [Photo Credit: FX]
Follow Alicia on Twitter @alicialutes
More:
TV Tidbits: 'Sons' Vet Moves On, Bette Midler Goes 'Glee'
TV Tidbits: Dave Navarro Joins 'Sons of Anarchy' While Rachel Zoe Gets a New Project
TV Tidbits: Tyra Banks's Teen Years, a 'Gossip Girl' Villian Returns