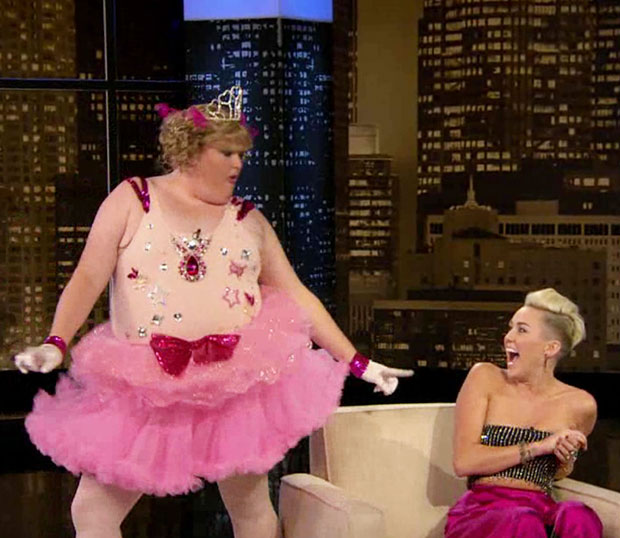 Everyone and their mother is obsessed with Here Comes Honey Boo Boo — and Miss Miley Cyrus is no different. On Wednesday night, Cyrus confessed to Chelsea Handler that she is crazy about Alana Thompson's show, so much so that she bought subwoofers to vamp up the hearing quality for when the six-year-old says her infamous line: "A dolla make me holla." And in return for her story, Cyrus got a shocking surprise.
But, Cyrus wasn't the only one who admitted last night that she is fascinated with Honey Boo Boo. Here's what happened last night on late night TV:
Jimmy Kimmel LIVE!
Joel McHale sat in the same chair on Kimmel Wednesday night that "Honey Boo Boo child" (as Kimmel calls her) sat in just 48 hours prior. After Kimmel told him about the special seat, McHale bent down to take a whiff under the chair. "It's like Moose Jerky and Captain Crunch and baby powder," he said. Despite his negative comment, McHale is a big fan of Here Comes Honey Boo Boo. "I'm obsessed with it," he confessed. "I want to move in with them." Maybe he can be the one to roast the next deer the family decides to cook for dinner? McHale then talked about the premiere of Community getting pushed back. "They broke the news... It was like, you know when an old person dies? They go, 'Okay, they died. But It's a good thing.' That's how they kind of explained it. It is good because they said we're going to promote you when you come back. We don't know when that is. But I think our Halloween episode is going to be awesome in February." Can you wait that long to see Community?
Part 1

Part 2
Conan
Anthony Anderson stopped by to tell Conan O'Brien about his new show, Guys with Kids. "We had a little scandal on set," he said. "We call it 'Nipple Gate.' Apparently, my nipples are too large for T-shirts. I'm being serious." He then shared a story of the drama his nipples caused him while working on the new show. "I was on set one day and my wardrobe guy, Tommy, came over and was like, 'Hey Anthony, did you put those pasties on that I put in your room?'" Anderson said. "I was like, 'No, I thought that was a joke — because we had a joke that my nipples are going to poke somebody's eyes out if you keep putting me in these small T-shirts.' He was like, 'No. It came down from network.' My nipples were distracting." Well, at least now Anderson knows the secret to going braless on the red carpet.
Chelsea Lately
Miley Cyrus visited Chelsea Handler and dished about her guilty obsession with Honey Boo Boo. "Since you saw me last, I put a home theater in my house," Cyrus said. "It wasn't quite loud enough, so we got subwoofers, so I can really hear her extra loud. So when I hear her go, 'Holla for a dolla,' it's like the whole house shakes. Liam [Hemsworth] won't watch it, but I just sit in the cinema and watch it." So what did Handler do after hearing Cyrus' story? She surprised Handler with a special present: a huge, fake Honey Boo Boo. "I like that she's like quadruple the size," Cyrus said of the gift.
Follow Lindsey on Twitter @LDiMat.
[Photo Credit: E!]
More:
Late Night Last Night: Kevin Nealon Thinks President Obama Needs a New 'Do
Late Night Last Night: Chelsea Handler Nearly Makes Jennifer Aniston Cry — VIDEO
Late Night Last Night: Tina Fey Fears for Tracy Morgan
From Our Partners:

'Twilight' Star Kristen Stewart Drops 2.2M on L.A. Home Near Robert Pattinson — PHOTOS
(Celebuzz)

Rihanna to Earn $8 Million for Turning on Christmas Lights: 14 Celebrity Appearance Fees Revealed
(Celebuzz)