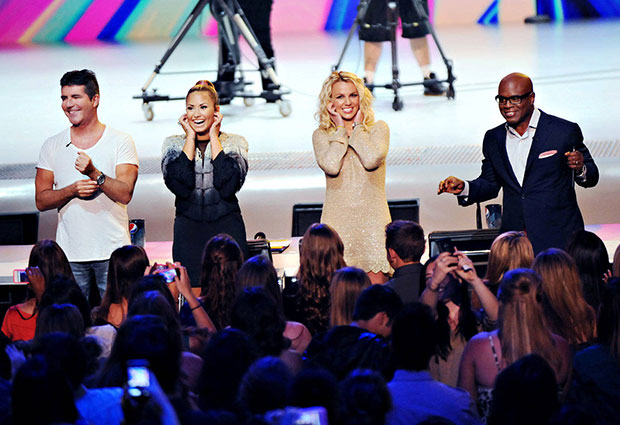 The X Factor
may not be raking in the numbers seen by NBC's
The Voice
, but it's still bringing bringing in a decent amount of viewers from all the right places (audiences 18-49, of course). The series has been hovering at 10.6 million viewers in recent weeks and Fox is no dummy. The network just picked up its fall and winter
American Idol
counterpart for a third season. 
Before the start of season 2 in September, the show saw some changes, most notably the addition of judges
Demi Lovato
 and
Britney Spears
in the seats that once belonged to
Paula Abdul
and
Nicole Scherzinger
. Lovato's youthful, cheerful commentary and Spears' sassy, no-nonsense retorts (and incredible looks that only a mother/aging pop star could pull off) have brought a unique element to a series that is swimming on competition. And apparently, it's only going to get crazier.
We already learned that
Khloe Kardashian Odom and Mario Lopez will take up
Steve Jones
' vacant hosting gig when the live shows begin, and if that perplexing combination wasn't indication enough,
Simon Cowell
took the renewal as an opportunity to make sure we're aware of just where this season is about to go. "Our main commitment will always be to find great talent, and let's not forget, we are now days away from our first live shows. The gloves are off! Expect fireworks!" he says in a statement. Next week, on Nov.1, will see the first of the live shows with Odom and Lopez and the series will air a special episode on Sunday, Nov. 4 to announce the Season 2 finalists. [Photo Credit: David Moir / FOX]
More:
'The X Factor''s 'Total F Up' Moves Episode to Tuesday, Angers Simon Cowell
'X Factor' Officially Names Khloe Kardashian Odom and Mario Lopez as Hosts
'The X Factor' Recap: Groups and Young Adults Get Judged
From Our Partners:

Pippa Middleton Acknowledges Her Famous Bottom in New Book: 'It's a Bit Startling to Achieve Global Recognition'
(Celebuzz)

LeAnn Rimes Sits Down With Katie Couric For First TV Interview Since Treatment For Cyber Bullying
(Celebuzz)