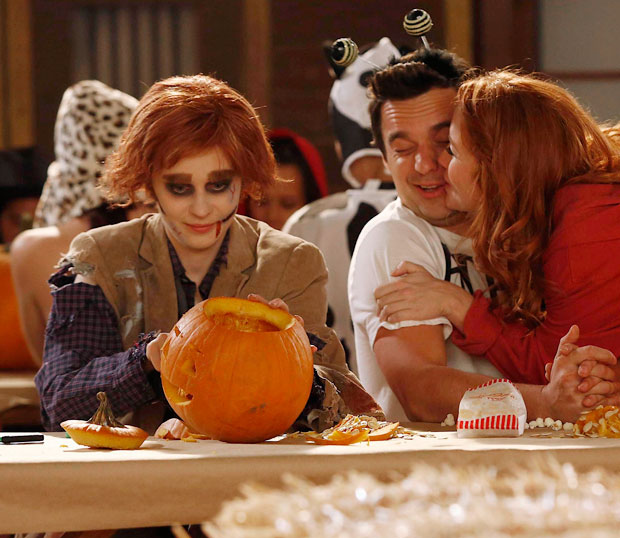 Who's that girl (who can withstand a hurricane), who's that girl (who is airing tonight despite Hurricane Sandy's devastation) ... it's JESS! That's right — Fox has confirmed that The New Girl will air its Halloween episode tonight as planned, as well as new installments of Ben and Kate, Raising Hope, and The Mindy Project. Even a hurricane can't stop laughter.
Also, The CW will air new installments of Emily Owens, MD and Hart of Dixie as planned, and CBS will air original episodes of NCIS, NCIS: Los Angeles, and Vegas. ABC will show its Dancing With The Stars: All Stars results show (featuring a performance by Taylor Swift), followed by new episodes of Happy Endings, and Don't Trust the B---- in Apartment 23. Diane Sawyer and Chris Cuomo will co-anchor a special 20/20: The Perfect Storm at 10:00 p.m., followed by a special edition of Nightline on the aftermath of Sandy, at 11:35. NBC, meanwhile, will still air its "Knockout Round" episode of The Voice, but they have added an NBC News special called "Sandy's Fury" at 10 p.m.
In addition, The CW has released their revised schedule for the next 2 Mondays, as Sandy shut down 90210 and Gossip Girl last night. Next Monday, Nov. 5, CW will air the 90210 episode "Into the Wild" — featuring a cameo by Olympic swimmer Ryan Lochte — followed by the Gossip Girl episode "Portrait of a Lady," which will find Chuck further investigating his father's dirty dealings. On Nov.12, 90210 will debut "Hate 2 Love" featuring cameos by Carmen Electra and Nelly Furtado, and Gossip Girl's "Monstrous Ball" will find Blair trying to fix her mother's company.
Stay tuned for more updates...
Follow Shaunna on Twitter @HWShaunna
[PHOTO CREDIT: Greg Gayne/FOX]
MORE:
'Gossip Girl' and '90210' To Air Repeats Due to Hurricane Sandy
Hurricane Sandy: Warner Bros. and CBS Studios Halt Production on NYC Shows
Post-Sandy: Inspirational Pop Culture Quotes To Get You Through The Day
From Our Partners:

Kate Upton's Sexiest Viral Videos
(Celebuzz)

Tom Cruise's $50m Defamation Suit Over Suri Abandonment Claim: What Are His Chances of Winning? (INSIDE STORY)
(Celebuzz)