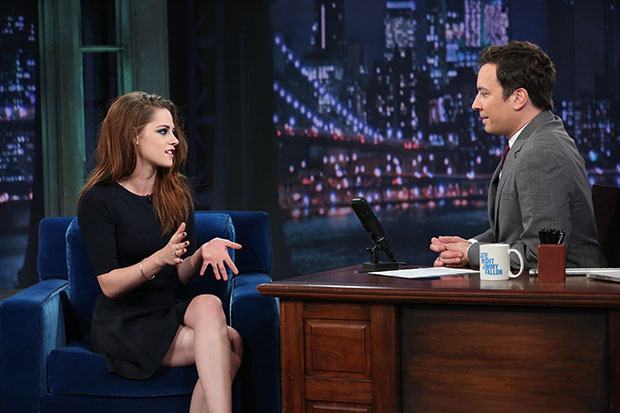 Kristen Stewart has hit up yet another late night show this week. On Monday, the famed Twilight actress stopped by to visit Jay Leno. And then Wednesday, she stopped by Late Night With Jimmy Fallon. So why is Stewart making the rounds? She's out promoting The Twilight Saga: Breaking Dawn - Part 2, which drops in theaters on Nov. 16. But besides Twilight, Stewart also discussed election day. And it turns out, she's not the only actress who wasn't home to vote.
Here's what you missed last night on late night TV:
Late Night With Jimmy Fallon
Stewart told Fallon that she voted with an absentee ballot. She then talked about what it was like to have a baby on set while filming Breaking Dawn. "Occasionally, we did have a real baby and it was so clear, it was reflected in everyone's faces," she said. "The entire room would light up." But then they also used a fake baby to film certain parts. "They would be like, 'Okay, well let's just try the digital one. Let's try the Chucky doll... that closely resembled Chucky,'" she explained. Stewart also admitted that it's like a reunion whenever she sees her Twilight costars. "Anytime all of [us] get together, it doesn't matter if we're talking about the movie or promoting it, it's the same exact feeling," she said. "That tone, it doesn't go away. We do press junkets in the same exact hotel for every single movie all the time. Yet, when it's a Twilight movie, you walk in [and] you're like, 'I can feel them. Where are they?' We're all back together again.'"
Part 1
Part 2
Jimmy Kimmel LIVE!
Hayden Panettiere also voted with an absentee ballot. She told Kimmel a story about meeting President Barack Obama in person for the first time. "I actually met the president a while ago in D.C. It was before he became president," she said. "I'm like I gotta make it through these secret service guys. And I was like, 'Hi, I just really want to meet Mr. Obama. Please?' [I] weaseled my way in there. I was like, 'I know I have about .5 seconds to explain to him what I'm here for and what I want to talk to him about,' which was dolphins and whales and the ocean. I literally went, "Blibbbbb bliberttt blibbbbb blerty ahhhhhh.' And he looked at me and went, 'Aren't you that cheerleader?' I was like, 'Yes, yes, that's me.'" And on a Nashville note, Panettiere admitted that Tennessee residents come up to her and say 'thank you' for representing the south so well. She also said that Taylor Swift once lent her a guitar, which she has yet to return.
Part 1
Part 2

Late Show With David Letterman
Letterman tried to be funny by revealing a video of Brian Williams pretending to steal an umbrella.
Follow Lindsey on Twitter @LDiMat.
[Photo Credit: Lloyd Bishop/NBC]
More:
Late Night Last Night: Kristen Stewart on 'Leno' Vs. Robert Pattinson on 'Kimmel'
From Our Partners: