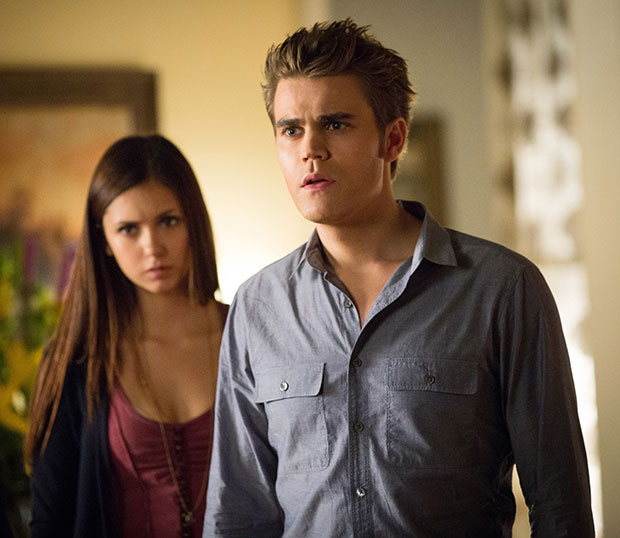 Well, the big moment has finally arrived. Ever since Elena was turned into a vampire at the end of last season, fans have been wondering when the damsel with a heart of gold would be forced to make her first kill. Tonight's adequately named episode "The Killer" revealed the identity of Elena's first unfortunate victim, as well as several other mind-blowing secrets that will greatly affect the Mystic Falls gang going forward. Hollywood.com was able to screen the episode with Executive Producer Julie Plec, writer Michael Narducci, and actor Todd Williams earlier this week, and they all spilled the beans on what's next after this major game-changer. If you haven't seen tonight's episode, or don't want any future plots semi-spoiled, then stop here. SPOILERS AHEAD!
After a shocking turn of events, Elena brutally (but rightfully) killed Connor (Williams), a member of the mysterious "Five" vampire hunters. According to Plec, this may not have been her best move. "We learn that killing a hunter comes with a price," she said. "There's a great, weird Dostoyevsky consequence to it all that she is going to have to deal with. That takes her to some really dark, dark, dark places."
But, this being The Vampire Diaries, death doesn't necessarily mean that Connor won't be back in some form or another. "Actually, believe it or not, we have not seen completely, totally, the last of Connor," Plec teased.
While we obviously don't know what Plec means, the other big reveal of tonight's episode — the fact that Jeremy now has the tattoo that signifies a member of the Five — may have something to do with it. According to Plec, Jeremy's journey will be a major plot point for the rest of the season. "Right now it's just the beginning of him being awakened," she said. "It continues immediately. And in that there's the question of, what does it mean that he now has this mark on his hand, and what does it mean for the mythology of the five and what that mark leads to?'
According to Williams, it may not lead to good things — that tattoo can be quite a burden. "From what I've come to understand, Connor, he's actually a victim of the tattoo," he said. "People assume that all that Connor wants to do is kill vampires, and he derives some kind of pleasure from it, but it's quite the opposite. He's a very tortured man, and he has a lot of questions.  He didn't even know his origins and his background. He was in search for so many things that there was a level of desperation. [He thought] 'I just want to know that everything that I've done to be worth it, and this tattoo.' He's not able to be compelled by a vampires, but it kind of compels him to do what he does. So if you wrap your mind around that whole thing with Elena and Jeremy and the compulsion of the tattoo, and her being a vampire, there's a lot of sticky stuff that could possible come out of this."
Oh, like an innate murderous desire to kill your own sister? "They are supernaturally predisposed to be in conflict," Plec said. "So that's going to make Sunday dinner a little awkward."
And since Elena unknowingly ruined her shot at a cure when she killed Connor, the supernatural battle won't be ending anytime soon. But Plec said the quest for a cure will still be an underlying issue. "It's going to ask a lot of questions," she said. "It's going to make our characters ask a lot of questions about themselves. Would they want it? What would they do in order to get it? It's going to make them realize — Klaus is an immortal hybrid who has been relatively indestructible. Is there some way to make him destructible? There's going to be a whole lot of questions asked about what could happen if this cure were to be uncovered, and who would go to great lengths to make sure, ultimately, that it didn't fall into the wrong hands."  
Speaking of Klaus, we saw tonight that a possible cure for vampirism isn't the only threat he has to consider — Tyler and newcomer Hayley are set to topple his hybrid empire. "What you just saw [tonight] is the glimpse of the beginning of a story for Tyler," Plec said. "After all this time it pays off — his sire bond to Klaus, the hybrid circumstance — Klaus' kind of Machiavellian control that he has over these people. What Tyler's going to do [is] kind of incite a revolution."
"The show is so much about compulsion and addiction and urges that you can't fight," Narducci added. "Tyler is someone who beat the sire bond, and now he's free. And he looks at all these other hybrids that are around, [who] Klaus is using to do whatever — including be cannon fodder. And a hero would say, 'This is wrong. I should be involved and do something about that.' Hayley is someone who helps him act on that heroic desire."
Follow Shaunna on Twitter @HWShaunna
[PHOTO CREDIT: Bob Mahoney/The CW]
MORE:
'The Vampire Diaries': We Need To Talk About Jeremy
Vampire Diaries' Recap: The First Cut Is The Deepest
'Vampire Diaries' Recap: Growing Pains

Lady Gaga Dons Strapless Bikini Top, Waves to Fans in Brazil (PHOTOS)
(Celebuzz)

Leonardo DiCaprio Lists $23M Malibu Beachfront Mansion: Take a Peek Inside (PHOTOS)
(Celebuzz)