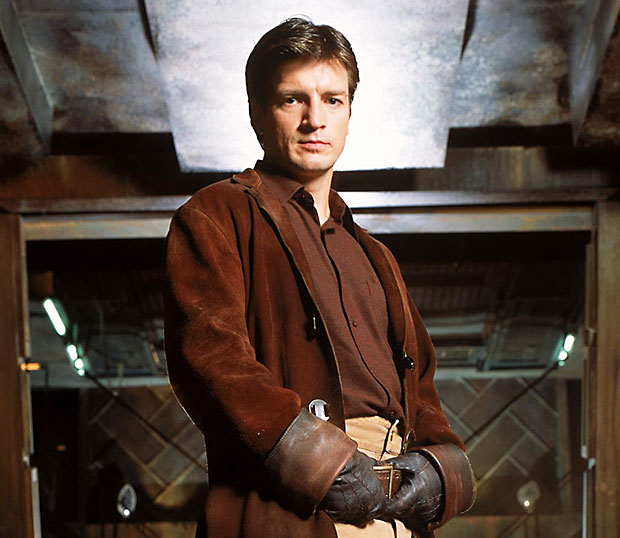 Sunday night, the Science Channel explored something completely unscientific: the love of a little show called
Firefly
with a reunion special called
Firefly: Browncoats Unite.
The cast and crew of
Joss Whedon's
now 10-year-old failed, yet utterly beloved fantasy/sci-fi series got together to talk about the show that has captured so many fans in its absence from television. Few secrets were revealed (unless you count the notion that Inara, played by
Homeland
star 
Morena Baccarin
, was intended to have a cancer battle before the show got the ax), but one very important topic was on the table:
Nathon Fillion's
Captain No-Pants. 
After going full force with the "What's the deal with male nude scenes, anyway?" concept (Jerry Seinfeld wants his joke back), Fillion jokes about filming his nude scene on
Firefly
and taping a certain beloved director's headshot to his "goodies." Hey, it sure beats a pair of nude briefs. That whole Ken Doll look is
not
sexy, folks.  What was your favorite part of the
Firefly
special? Tell us in the comments. [Photo Credit: Science Channel]
More:
Gina Torres on the 'Firefly' Reunion: 'I Just About Burst Into Tears'
Comic-Con 2012: 'Firefly' 10th Anniversary - What We Learned
'The Avengers' Pics: See Joss Whedon as Super-Director
From Our Partners:

Selena Gomez Flies Out of Los Angeles Following Justin Bieber Split (PHOTOS)
(Celebuzz)

'iCarly' Series Finale Preview: Say Goodbye to Carly, Hello Carly's Dad! (EXCLUSIVE VIDEO)
(Celebuzz)