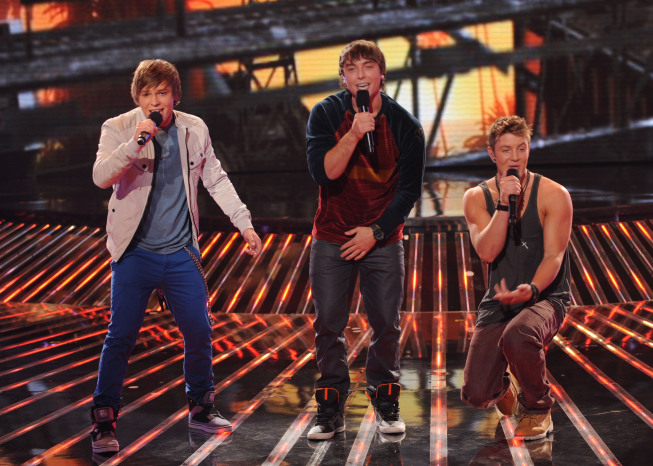 Christmas seemed to have arrived early for Arin Ray and Fifth Harmony's Normani Hamilton, because their showmance is so on, they're totally going to be kissing underneath the mistletoe. Their adorable flirtation session, mixed with a game of pool (not the Prince Harry kind) at the contestant's mansion was shown for America to witness during the show last night. And OMG, there were literally hearts in their eyes as they gazed at each other. Minus the technical difficulty at the beginning of Arin's performance, dedicating Madonna's 'Crazy For You' to his soon-to-be (if not already) girlfriend was totally, as Britney Spears also likes to say, incredible.
Following the show, Hollywood.com chit-chatted with the remaining 12 contestants to discuss their performances for Diva Week, some of which received very hard-to-swallow criticism brought to you by Simon & Co. (enter Beatrice Miller, Arin Ray, and CeCe Frey). Vino Alan dish on Tate Stevens' wifey will hopefully put an end to his snoring (he's got the evidence on his iPhone), while Emblem3 are happy to share just how highly-solicited they are these days by female fans. Justin Bieber, you may have some serious competition for your fans. Check out what they said below:
Emblem3, on their song selection:
Wesley Stromberg: We sat for like seven hours trying to pick songs. One of the ones we thought about doing was 'Hit Me Baby One More Time' by Britney Spears. We went with Alicia Keys because it felt the most like us. We put the beach vibe spin on it, and it worked really well.
On Britney calling them heartthrobs:
Wesley: It feels incredible!
Drew Chadwick: Well they say sexual energy is one of the most powerful forms of energy so we'll take it!
On getting attention from female fans:
Wesley: I literally posted a photo two days ago on Instagram and got 22,000 "likes" on it! It's insane. I had more likes on a photo than Zac Efron. I couldn't believe it.
Keaton Stromberg: That's insane. It's incredible.
Wesley: He's gotten... it's too inappropriate to actually say! [Laughs]
Drew: I got a video. It was very... eye-opening!
Vino Alan, on being a hopeless romantic:
Vino: I've got to catch myself, because I'm in love with the thought of being in love sometimes. I don't know if it's just me, or that thing that [is] true love.
On his roommate Tate Stevens being a loving husband:
Vino: He truly is loyal, and honors his wife. She flew out [to Los Angeles] by herself. I'm guessing he told you. And I'm like, "Go give him some loving." Hopefully it will stop his snoring.
Arin Ray, on the technical difficulty at the beginning of his performance:
Arin: When you have a mindset to go in there and kill it and be emotional and you hear 'We Will Rock You' it's just like, huh? That's not my song. And it just keeps playing, and you wonder when it's gonna stop. And then immediately your song comes in, and you're completely thrown off.
On his evolving friendship with Normani from Fifth Harmony:
Arin: We're really close. She's really special to me. It's really cool to have someone that supportive, you know. She'll definitely be there for me later today.
On having Britney as his mentor:
Arin: She's really cool, you know. She likes to joke around. She tells us about her kids and stuff. She's a really down to earth person. She's not standoffish at all. She brings the energy. It's really cool to be around her.
Fifth Harmony, on Arin and Normani's relationship:
Camila Cabello: He digs her, and that is not her fault. He can't help it.
Normani Hamilton: But I'm not going to lie, I dig him to. He is super, super, sweet and we are really close friends and I don't want it to end. And that's all I'm going to say.
On his song dedication to her:
Normani: A little bit. I didn't have anything to say, I was speechless. But it was really sweet.
Camila: I predicted it and I told her last night that he would dedicate a song to her.
Lyric 145, on praise from mentors behind the cameras:
Lyric: Da Queen: I don't care what they say on TV, it's always a different conversation when the cameras are off. Me and Demi's conversation, me and L.A. Reid's conversation, it's like, why didn't you say that on TV?
Jemelle Joseph: First of all, L.A. Reid loves us.
Lyric Da Queen: Every performance.
Jemelle Joseph: He loves every performance that we have done so far, and has come up to us afterwards and said he was obsessed. He loves us.
Lyric Da Queen: Exactly, and people may think he doesn't like us, but he does.
CeCe Frye, on L.A. Reid disliking her dress:
CeCe: This dress is probably a $20,000+ Alexander McQueen runway dress. There's probably only 10 of them in the world, and L.A. Reid just insulted it. The fashion gods are going to strike him dead, okay? Alexander McQueen himself is going to haunt him and his diva-esque mansion somewhere. Come on.
On receiving harsh criticism for her performance:
CeCe: I've been picked on my whole life. It's nothing new. It's not anything I can't handle either and I don't know. Bottom line I respect the judges, I respect their comments, but if it's not constructive I'm not going to let it affect how I feel about myself or how I change my next performance.
[Photo Credit: FOX]
More:
'The X Factor' Recap: Divalicious
Khloe Kardashian Talks 'X Factor' Nip Slip and Hosting Advice From Kim