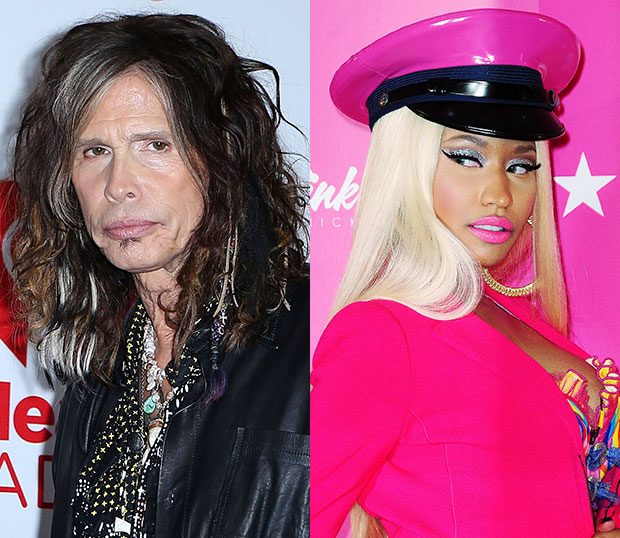 What should have been the ravings of a beloved loony rocker have become the catalyst for the second American Idol feud in two months – and the show doesn't even air until January. Of course, the person pouring fuel into this nonsense is none other than brand new judge Nicki Minaj, who already fought with fellow judge Mariah Carey and is now claiming that Season 11 judge Steven Tyler's recent comments are "racist."
It makes us wonder: Is this the Idol we're stuck with? Is it now a show laced with negativity and bitterness – qualities we only thought existed during Hollywood week when Richie the Cowboy was testing all of us? (We're not dealing with any of his "craps.")
The answer, it appears, is "Yep."
Monday, Tyler spoke to MTV about the "new" Idol, saying,They should have something going on so thick and beautiful that they can lay it over the new talent that's trying to birth itself. It needs to be birthed, not judged by 'entertainment' factors, it needs to be judged by people that [are] honest, true, that have the 'it' factor. Not the 'it' factor because they can fight. The f--k is that all about? …
These kids, they just got out of a car from the Midwest somewhere and they're in New York City, they're scared to death; you're not going to get the best ... If it was Bob Dylan, Nicki Minaj would have had him sent to the cornfield! Whereas, if it was Bob Dylan with us, we would have brought the best of him out, as we did with Phillip Phillips. Just saying.Minaj, who's not one to ever let a story hit the masses without taking to Twitter to tell her side of it, jumped right into the fray with gusto, claiming Tyler's comments about Minaj's potential for missing a talented performer on the level of Bob Dylan were laced with racism.
I understand you really wanted to keep your job but take that up with the producers. I haven't done anything to you. That's a racist comment
— Nicki Minaj (@NICKIMINAJ) November 26, 2012
You assume that I wouldn't have liked Bob Dylan??? why? black? rapper? what? go fuck yourself and worry about yourself babe.
— Nicki Minaj (@NICKIMINAJ) November 26, 2012
LOL lets make him a shirt that says "No Coloreds Allowed" then escort him down 2 Barbara Walters so he can tell how he was threatened w/guns
— Nicki Minaj (@NICKIMINAJ) November 26, 2012
When Steven 1st went on Idol he was ridiculed by his peers & fans alike. Called a sell out. So what does he do? Ridicule thenext judge.
— Nicki Minaj (@NICKIMINAJ) November 26, 2012
Of course, while we all wonder who we think is more correct – the former, potentially ousted judge or the newer firestarter – we're already losing the fundamental piece of American Idol that kept it from being just another The Voice or The X Factor. Even when the show brought on superstars like Jennifer Lopez and Tyler, it maintained the promise that the contestants were the ones to watch, not the fireworks happening behind the judges' table. 
But if Minaj can't put up with a little chatter from the peanut gallery, what's she going to do when fans start angrily tweeting at her for a negative comment at a contestant they like? Are we headed for a season in which Minaj's fury will be aimed at her fellow judges and anyone else who voices their criticisms? Is this the era of Mean Idol? 
[Photo Credit: WENN (2)]

Remembering Larry Hagman, 'Dallas' Star Dead at 81