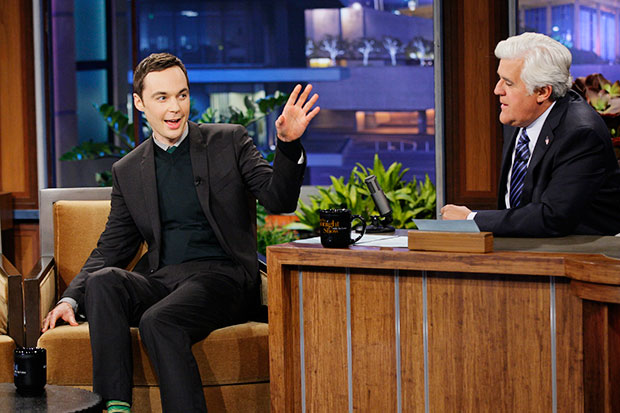 Following the Thanksgiving holiday, many celebrities are returning to the late night circuit to discuss how they spent their own familial festivities. While The Big Bang Theory star Jim Parsons would rather spend time with his fantasy football friends, and leave his actual family with a cardboard cutout likeness of himself, Ryan Seacrest did in fact high-tail it on home (and then to the family home of his girlfriend, Julianne Hough), and Kate Walsh welcomed her RV-loving kinfolk into her neighborhood.
Check out what we learned about these stars' holiday traditions last night.
The Tonight Show with Jay Leno
Jim Parsons paid a visit to The Tonight Show to delve into his secret obsession of football. Parsons himself admitted that he doesn't exactly come across as the sports-loving type, but that he has, in recent years, become completely enamored with the world provided by his fantasy league. Additionally, Parsons shared the tale of some strange phenomena to overtake his likeness of late: a Spanish-language hair restoration ad featuring Parsons (much to his surprise) and a life-size cardboard cutout of the actor of which his mother has come into possession. Finally, Parsons shared a video of he and fellow The Big Bang Theory cast mates performing an unexpected gag during the filming of one episode...
Part 1
Part 2
Jimmy Kimmel LIVE!
Ryan Seacrest stopped by Jimmy Kimmel LIVE!, opening up to the talk show host about his dream to land a show on CBS... the only major network yet to hire him. Additionally, Seacrest divulged a few details about his recent Thanksgiving foray with the family of his girlfriend Julianne Hough, and the athletic endeavors the pair vowed to take over the course of the weekend. Finally, the topic turned to American Idol, leading up to Seacrest to pledge that he would do anything for his beloved show... even fight the judges on air.
Part 1
Part 2
Conan
Conan O'Brien welcomed Kate Walsh to his show, discussing the actress' family-filled holiday season (complete with multiple RVs). Walsh also talked up her very own perfume... which seemed to have confused Conan to no end. The show featured one of Walsh's ads for the scent, which includes, as Conan puts it, the "worst looking octopus of all time."
Part 1
Part 2
[Photo Credit: Paul Drinkwater/NBC]
More:
'Revolution' Recap: It's Always Swordfighty in Philadelphia
'The Voice' Recap: Somebody Too Close to Love Someone Like You
'Dancing With The Stars: All-Stars' Recap: McKayla is Still Not Impressed
You Might Also Like:

Cory and Topanga Are In! Big 'Boy Meets World' Spinoff News