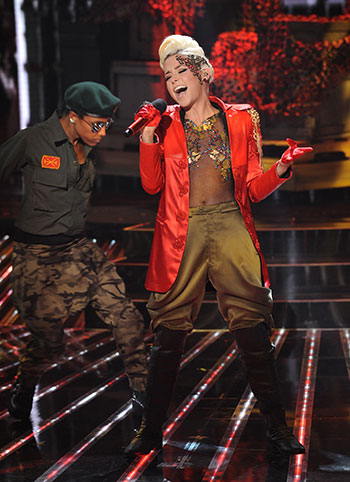 The X Factor's Supervising Producer/Creative Director/Choreographer/Cannon Enthusiast Brian Friedman wants to make one thing abundantly clear: Sticks and stones may break his bones, but he doesn't really give a crap about what the judges say. "I've had a lot of practice dealing with Simon [Cowell] not liking my creative choices," Friedman says with a laugh. "He has not liked them for a long time." 
It makes perfect sense — Friedman has not only worked on the two US seasons of
X Factor
, he also has years of experience creating glitter explosions and dance bonanzas overseas with Mr. Cowell — so the notorious grump's words just roll off his back. However, one
factor
 has managed to shake things up for Friedman this season — the introduction of the rankings list has led to panic amongst the bottom dwelling contestants, and more creative head-butts than ever before. "[On previous seasons], if someone was just safe, they were excited," Friedman says. "Now, they may be safe, but they're in 8th place. If they see that [a performance] that had dancers in it ends up at the bottom, then they overanalyze and think, 'Oh, dance numbers put us in the bottom.' Or vice versa. It causes more stress and pressure for us, because it makes them not trust the creative team." And that creative team works round the clock to create the onstage spectacles we see every Wednesday night. By Friday afternoon the contestants and their mentors have picked their songs, and Friedman and his team have until 3 or 4 a.m. that evening to conceptualize and choreograph them. But the whole shebang doesn't get stage blocked with the contestant until Monday, when they judges can (and frequently do) suddenly change their minds on song choice. "This week we've had a long race to get to the finish line with
Demi [Lovato]
's category," he says. "
L.A. Reid
[as well] — this week we've had a lot to change. Simon this week has been really easy. It fluctuates. It's not like one judge is difficult, and one is easygoing." When it comes to Lovato's team, Friedman's words are slightly troubling — Reid's contestants have been in the top 3 every week, but Lovato's 
Paige Thomas
, and particularly
CeCe Frey
, have had many creative difficulties. But Friedman swears that this week will be different, for both girls. "It's been really difficult for me, because sometimes I see a vision for these contestants that isn't necessarily what their mentors see for them," he says. "For me, with CeCe, I would love to see her have fun on stage. She's had a couple of weeks where it's been really stripped back ballads. I want to see her get back to who she was when she first auditioned, which was just a girl who was ambitious, who had a lot of energy and confidence, and was going to go make her dreams come true. This week is a return of that. We're going to get to see a fun CeCe hit the stage." Friedman has had similar creative difficulties with Lovato and Thomas. "[Paige] started out doing really big, over the top productions, and they haven't been loved by the judges," Friedman says. "When you get negative critiques, the obvious thing to do would be to take it to the heart, and build from them. [But] I would love to still be doing her flying down with an airplane crashing on the stage." Well, don't count that airplane out just yet — Friedman says that this week will finally showcase both girls as the singers they're truly meant to be. "It feels like we've learned them," he says. "This week will be the most defined we will be, with all of the contestants. CeCe and Paige, you've seen transformations of them trying to find themselves, and I feel like this week is the week where everybody is stepping on stage defined as the artist they want to be." Exciting! But Friedman is quick to point out that wherever Paige, CeCe and the like end up on the roster is ultimately up to them. "The top 3 performers, they're done by the same creative team," he says. "It truly does not come down to the creative, it comes down to how well they deliver that performance — whether their vocals are good, whether they're believable, whether they're likable. If someone is incredible, they can have fireworks shooting out of their ass, and you wouldn't look away from them."
Follow Shaunna on Twitter @HWShaunna
[PHOTO CREDIT: Ray Michshaw/FOX]
MORE:
'The X Factor' Recap: Let's Give Thanks
'The X Factor' Recap: Heartbreak All Around
'X Factor' Contestants Emblem3, Vino Alan, and More Talk Female Fans, Love, and Relationships
You Might Also Like:

Best Nude Scenes of 2012 — PICS

'Hunger Games: Catching Fire' First Look: The Quarter Quell Begins! — PICS