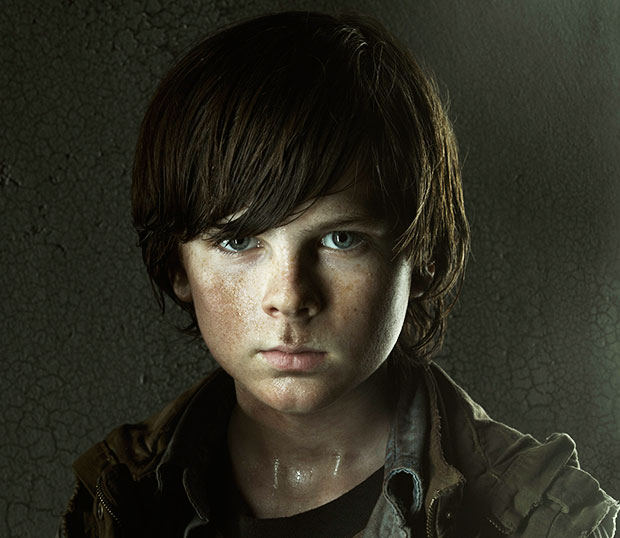 It happens to even the best shows on television. A character arrives and he or she is so blatantly obnoxious/useless/whiny/pretentious/uninteresting, that we deem them Lord of the Eyeroll, or less formally: the worst. Luckily, the writers of each show have the power to reverse this unfortunate title with the power of their words and in 2012 eight very special and fortunate characters' fates were changed forever. And guess what? They're not so bad after all.
1. Carl (Chandler Riggs) on The Walking Dead
"Where's Carl?" That's all this little tyke was good for in Season 2 of
The Walking Dead
. He finally got some decent screen time and it was all about him getting lost, taunting zombies, and being generally silent and creepy. This season, Carl is still creepy, but he's holding his own. And in some cases, he's doing the manly thing when many of the grown men in the survivor party won't. Michonne's about to be eaten alive by walkers and Rick's still hesitating? Have no fear, Carl's all over that – and with precise aim too. Now, if only we could make peace with how easy it was for him to shoot Lori in the face.
2. Adam (Adam Driver) on Girls
Adam's shift was an interesting one in that he didn't change. It was our perception of him, through the often wonky lens that is Hannah Horvath, that changed as the season progressed. We learned that he wasn't just some weirdo asshole. He was an asshole who just wanted Hannah to love him, and who (shocker of all shockers) loved her back. 
3. Nellie (Catherine Tate) on The Office
She started out as the bitch trying to steal Andy's job, by any means. Then we found out why she was so crazy (left by her fiancé, fear of dying alone), but she was still messing with our Andy. Yet, by Season 8, she's calmed down, she's making nice with the unlikeliest of characters (Dwight), she's palling around with Pam, dressing up as Toby for Halloween, and even getting in on office pranks. Suddenly, she's one of the gang – well, as much as your average Dunder Mifflin employee can be.
4. Skylar (Anna Gunn) on Breaking Bad
Alright, so Skylar hasn't exactly changed. It's her environment that's made her more sympathetic to a fan base that rallied against her for so many seasons. Despite having a husband who lied to her, cooked meth, and worked with gangsters, Mrs. White was always what she feared becoming: the bitch who keeps Walter Jr. from his father. The woman who wouldn't accept a delicious pizza dinner (we all know it's her fault that pie suffered on that hot New Mexico roof). But as Walt continues to go down the rabbit hole, far beyond places we could have ever fathomed, it's starting to feel like we've given Skylar the shaft. After all, how would you react if your husband was the meth king of New Mexico?
5. Jamie Lannister (Nicolas Caster Waldau) on Games of Thrones
Jamie Lannister certainly didn't become a hero in Season 2 of
Game of Thrones
. He did, however, become a human. Because of his witty, almost friendly interactions with Brienne of Tarth, he transformed from that loser who had sex with sister (more times than we'd like to imagine) and who tried to kill young Bran Stark at the outset of the series. I probably wouldn't let him dog-sit (or Direwolf-sit, rather), but he'd be good for a conversation or two and I certainly don't feel like pushing the guy out a window… anymore.
6. Winston (Lamorne Morris) on New Girl
Winston was the absolute worst throughout Season 1 of
New Girl
. He waltzed into that house, attempting to replace the dashing and hilarious Damon Wayans Jr., who played Coach but dropped the character to return to
Happy Endings
. Luckily, in Season 2, the writers have realized their mistake. And instead of letting Winston continue to silently suck the air out of every room, they've turned him into a joke about how horrible he is. Woody Allen impression? Sounds more like Dexter from
Dexter's Laboratory
. Fun, goofy prank on a friend? Sends him to the hospital. So Winston is still the worst, but at least now, we all get to be in the joke.
7. Camille Grammer on The Real Housewives of Beverly Hills
Camille was the one to hate (how many times can we listen to one woman praise her majesty in one season?). But once she became free (and more importantly, single) she started getting real, speaking her mind (and saying what we were all thinking). Just like that, Camille went from sinner to saint.
8. The Dean (Jim Rash) on Community
Disclaimer: This video doesn't depict the Dean's redepmtion, but we definitely started to appreciate moments like these when he was replaced by the Dean-elganger.
The Dean was always a mode of exposition. He would pop into a scene, make a Dean-errific pun and introduce the week's occasion for nonsense. He'd pop in and out of scenes, and make occasional passes at Jeff, but for the most part, he was there to get on everyone's nerves. He was great at it (kudos, Mr. Rash), but he was always relegated to being the worst. Of course, unlike the other folks on this list, the Dean was supposed to make us roll our eyes. But he was born anew at the end of Season 3, when the study group finds a Dean-elgänger (or a Doppel-Deaner?) running Greendale. They then set out on a mission to find their true Dean and in the end, realize just how much they need him. It's what you might call a re-Dean-tion. (I must give credit to my fellow Hollywood.com writer Michael Arbeiter, who came up with that Dean-tastic pun.)
Follow Kelsea on Twitter @KelseaStahler
[Photo Credit: AMC]
More:
Crackcidents, Toddlers, and Terrorists: The Superlative Moments from 2012
Best (and Worst) TV of 2012
2012: Remembering the Year that Was in Pop Culture Via Our Favorite Stories
You Might Also Like:

Cory and Topanga Are In! Big 'Boy Meets World' Spinoff News

12 Hot (And Horrifying) TV Nude Scenes