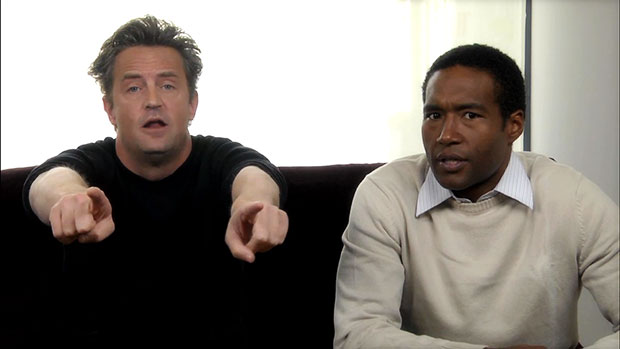 Angus T. Jones has almost made it too easy. Too easy for us to speculate the fate of Two and a Half Men, too easy for Charlie Sheen to thrust himself back in the national consciousness, and way too easy for people to make fun of him and his religiously fueled video rant against the CBS sitcom that's made him barrels of money. 
It's not even just late night talk show hosts taking shots at the born again 19-year-old actor, who has since had to face the music and
apologize
for his statements about
Two and a Half Men
(Jones called it "filth" and urged viewers to stop watching), but his sitcom brethren. 
In a new bit for
FunnyorDie.com
,
Go On
star
Matthew Perry
goes on his own spiritual awakening career killer after he read the bible (or
Life of Pi
, whatever) and he urges people to stop watching the NBC sitcom because it's a "complete abomination with terrible morals." He then promises that, like Angus presumably will, he'll return all the money from his morally corrupt shows like
Studio 60 on the Sunset Strip
and
Mr. Sunshine
. But, not the money from 
Friends
, he's not a f**king moron, people. 
Check out the entire funny (or die) clip below, which also features an appearance from his Go On co-star Brett Gelman, a self-aware nod to his previous struggle with a Percocet addiction, and a final jab at Jones, "I wanna give full credit to Angus pulling off something that I thought was impossible: he managed to let us all know that he was, in fact, the craziest cast member in the history of Two and a Half Men." 
But Perry wasn't the only NBC star to take aim at the CBS sitting duck,
The Office
stars
Rainn Wilson
and
Craig Robinson
(playing the role of Jones' controversial spiritual advisor Christopher Hudson of the faith-based website Forerunner Chronicles) also got in on the fun.  "
The Office
is nothing...it's filth and that filth is rotting your brain," Wilson says, mocking Jones' declaration. "Don't watch
The Office
." Enjoy their parody here: 
Now watch the original, unintentionally hilarious video that started it all:
[Photo credit: Funny or Die] 
More: