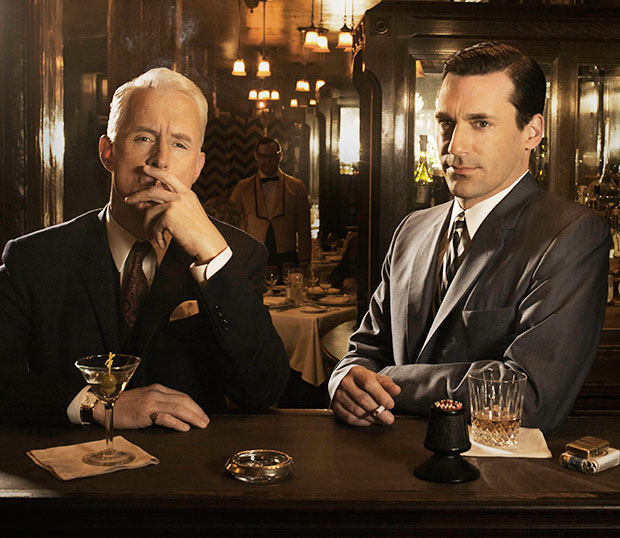 John Slattery and Jon Hamm look so damn good in front of the camera, it's hard to imagine why Mad Men fans would be excited that both of the Emmy-nominated actors will be spending their time behind it in the eagerly anticipated Season 6. Maybe it's because Slattery and Hamm have directed some of the series' best episodes to date. Hamm took over the reins in Season 5's "Tea Leaves" (a.k.a. the "Fat Betty" episode) while Slattery impressed with Season 5's "Signal 30" and Season 4's "The Rejected" and "Blowing Smoke." 
The Hollywood Reporter noted earlier this week that both Mad men will direct episodes once again in the upcoming Season 6. According to the article, Slattery — who will step behind the camera sometime in February — will direct two episodes, but there's no mention of how many Hamm will helm. Hollywood.com talked to Slattery, who is currently promoting his work in the indie drama In Our Nature, about his directorial work on the beloved series. 
While fans of Mad Men can't get enough of watching Slattery's Roger Sterling, the 50-year-old actor says he rarely goes back and watches himself on screen. "It can be disappointing, sometimes its gratifying. But you were there so you know what the ultimate potential of the thing was and then, like most things, the reality doesn't measure up to your fantasy of it or your ideal vision of it," he says. 
But Slattery acknowledges that stepping behind the camera can often help an actor get past that hurtle. "I've been directing Mad Men for the last couple of years... I watch it in the editing room, it's a good thing to sort of get over yourself. Actors can be self-conscious, I have found it's a good thing to dispense with that. The craft element of being in front of a camera, the stillness and size of performance that you can kind of adjust, if you can just get over [yourself]."
[Photo credit: Frank Ockenfels/AMC]
More: