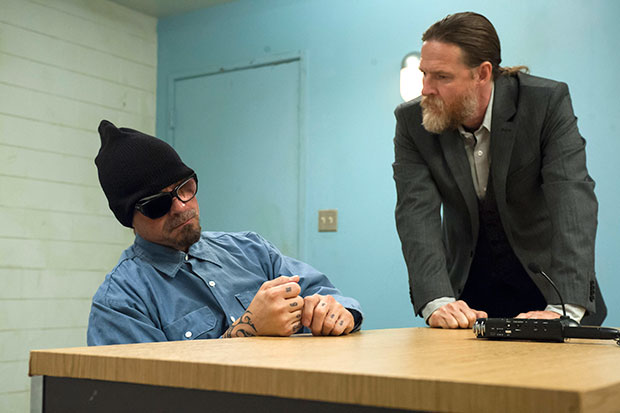 Hopefully, Sons of Anarchy fans have recovered from last night's heart-stopping finale, and are thus able to process the fact that more bad times are likely on the way. After an episode that included — SPOILER ALERT — Clay and Tara being betrayed by those closest to them and carted off to jail, Jax going the way of Walter White, and Otto biting off his own tongue, the show's outspoken creator (and literal tongue-biter) Kurt Sutter flew to the rescue to answer the most pressing questions on our minds. 
"I really wanted to get to [this] place with Jax at the end of the season," Sutter says of his hero, who viciously betrayed his (admittedly dastardly) father-in-law by framing him for a murder he didn't commit. "The death of Opie allowed us to accelerate Jax's emotional journey, in terms of where he was going to be and the decisions he was going to make. Perhaps Jax realizes that he's better at being an outlaw than he is at being a husband and a father."
This is terrible news for fans of Jax's wife Tara — arguably, the most grounded and innocent character on the show. "There's an allure that comes with power and prestige that [Jax] wasn't aware of," Sutter says. "So to have that [outlaw] stuff come out almost flawlessly — the execution of [Damon] Pope, the way he maneuvered that... all of that stuff went flawlessly, and was incredibly smart. [Meanwhile], all of the stuff in his family was essentially falling apart. He couldn't keep any promises to Tara — everything was a false promise. I think [for Jax] there is a sense of, 'I'm completely successful on the one hand, but I've completely failed at the other thing. Maybe I'm going to just keep doing the thing I'm good at.'"
Of course, it wasn't only Tara that got screwed, or Jax that did the screwing — Gemma managed to betray both her husband (Clay) and her daughter-in-law (Tara) by night's end, essentially turning one of the show's biggest heroes into a villain in one fell swoop. "It's always difficult, trying to find that [likability] balance," Sutter says of his three leads. "Gemma — and I mean this in the most flattering way— is just a f***ing cockroach, man. She's hard to kill. She was really adrift at the beginning of this season. She hit a bottom, and she crawled her way back up. She made some really defining decisions, and at the end, my intent for her was to have her balls back. It's hard to cheer that on, but at the very least, there's that sense of — she always f***ing lands on her feet. Her justification is always, 'I'm taking care of my family.' That's what allows her, in her mind, to do the things that she needs to do."
And at this point, her family really only consists of three people — Jax and his boys, Thomas and Abel. She's no longer in love with Clay, whose future, Sutter says, is very uncertain. "Clay is essentially a dead man walking, or a dead man riding between a bunch of black men," he says. (Since Clay was framed for murdering Damon Pope, his associates — all black — will likely try to kill him in prison.) "I wanted to set that up — that Jax was successful in that death by proxy option that he is choosing for Clay. How that will play out exactly, I'm not sure yet — and whether or not Clay will make it through Season 6, I'm not sure."
Ouch. Just when we were starting to feel bad for the guy. But there is some good news (potentially) for non Gemma/Clay shippers, as Sutter is trying hard to bring back fan-favorite Jimmy Smits. "We're in the process right now of trying to figure out Jimmy's availability, and trying to make that work," he says, also mentioning that Smits didn't realize how fun and fan-friendly the show was until mid-season. Donal Logue, who plays the bats*** former federal marshal Lee Toric will definitely return. "That character will be a big character next season, and probably the most dangerous threat the club's ever had — just in terms of law enforcement weight, or connections. Because he is retired, he does not have the legal handcuffs, or morality hurdles, that some of our other law enforcement members have had."
So, as usual — watch your back, Sons. But there's one guy who they don't have to worry about anymore, as he certainly won't be talking — Sutter's character Otto. "[Biting off my own tongue] was my way of writing myself out of having to do dialogue," he says. "If Otto comes back, it will just be grunts and writing s*** on paper."
Follow Shaunna on Twitter @HWShaunna
[PHOTO CREDIT: FX]
MORE:
'Sons of Anarchy' Season Finale Gives Jax His Just Deserts
'Sons of Anarchy''s Theo Rossi on Life With Jax and Clay: 'He Has an Excuse to Kill Me'
'Sons of Anarchy': When Clay Falls, A New King Rises

Harry Styles Spotted Outside Taylor Swift's Hotel Room The Morning After Their Date Night (PHOTOS)

Fall Bikini Bodies: The Good, The Great, The OMG (GALLERY)