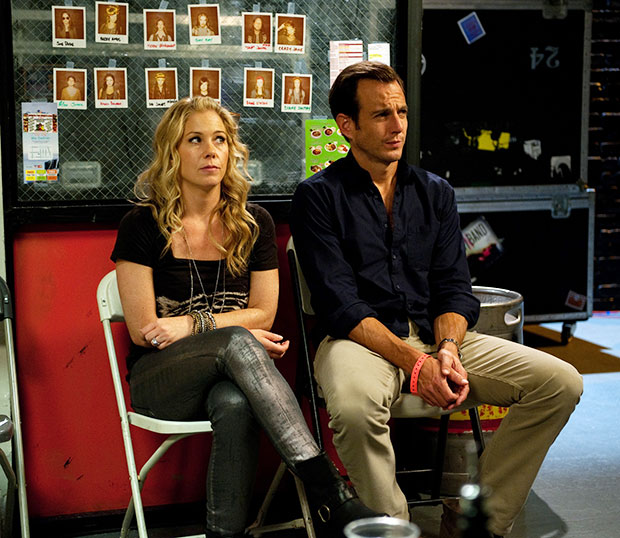 It's that time of year, when the world falls in love, every song you hear, seems to say: happy tidbits, may your TV dreams come true!
Alright so they definitely don't say that but at this point, they might as well. Because: tidbits! Everybody loves 'em, and we present them to you, friends of Hollywood.com, in this format to keep things light and easy. It's the holiday season, people are already loading up on things, so why not keep your television tidbits light and easy, eh? We couldn't agree more. So let's get down to business, shall we?
MTV Moves to Washington Heights: Ha! Just kidding, they'd never actually move MTV above 96th street, but the network of choice for Teen Moms and those that are Underemployed have a new television brethren in their midsts: the folks of Washington Heights, an area of Manhattan way, way uptown. (When I lived in Harlem we called it the Upper, Upper West Side.) The new docu-reality series—because of course—will follow a group of nine friends who attempt "to navigate the obstacles that stand in the way of their individual pursuits, which include fashion, music, baseball and poetry. Although they're not all blood related, they still consider each other family, as every setback, celebration and next step on the road to success brings them closer together."
TLC has Royal Baby Fever, New Special: Of course they do! The Learning Channel (they're still calling themselves that these days, eh?) has announced a new special titled Wills and Kate: A Royal Baby Story. Christmas really came early for those guys, didn't it? The special will air on December 16 at 8PM. [Variety]
Up All Night Nabs New Showrunner: They're really going all "out with the old, in with the new" on this show, aren't they? After recently announcing that the show would go from single-camera to a multi-camera show with a live studio audience, we really thought that we'd seen everything that could happen to Up All Night. And then the news came that they're switching showrunners! Looks like former Nurse Jackie co-creator/co-showrunner Linda Wallem has joined the show as executive producer/showrunner. She replaces Tucker Cawley, who took over showrunner duties at the beginning of season two. Not all is lost for Cawley, though, who will now serve as a consulting producer to The Mindy Project. [Deadline]
Once Upon A Time's Frankenstein has Daddy Issues: I mean, OK, we don't know that yet. BUT! One thing we do know is that Gregory Itzin is set to guest-star in an upcoming season two episode as Dr. Alphonse Frankenstein. I've heard stories about the bride of Frankenstein, but nothing about his dad. We'll find out all about him though, in the season's 12th episode. [TVLine]
Chicago Fire Sets Everwood Star Aflame: Dad Alert! Dad Alert! That's right, we have another dad making his way into primetime. This time, it's the series Chicago Fire, who recently nabbed former Everwood (remember that show?) Treat Williams to play fatherly towards Taylor Kinney's character, Kelly Severide. Daddy-o over here will appear in a multi-episode arc, and is named Benny. He's a real mean-muggin' fellow fire tough-guy who apparently has an on/off relationship with Kelly. (OK so maybe the daddy issues on this show are real). Family! I'm tellin' ya. [TV Guide]
[Photo Credit: NBC]
Follow Alicia on Twitter @alicialutes
More:
TV Tidbits: Jennifer Love Hewitt Dips into Polygamy, Peggy Will Return to 'Mad Men'
TV Tidbits: FX and CW Set Premiere Dates, Sean Bean to Star in TNT Drama
TV Tidbits: Nick Lachey Will Not Stay Out of NBC's New Singing Show

Kate Middleton Pregnant: A Look Back at Famous Royal Baby Portraits (PHOTOS)

Pregnant Kate Middleton Leaves Hospital After Four-Day Stay