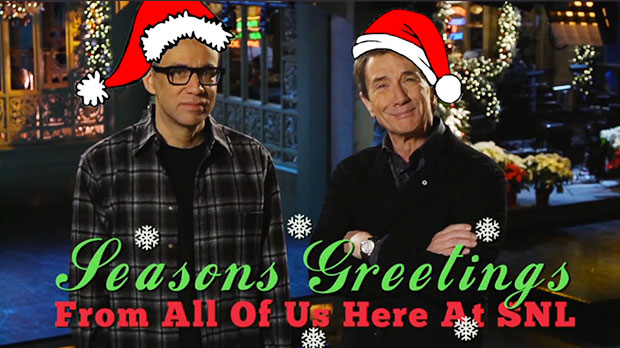 When it comes to Saturday Night Live hosts around the holidays, nice guys finish first. Last year Jimmy Fallon hosted the insta-classic, Emmy-winning ep which featured the Michael Bublé Christmas duets sketch. Back in December 2010 host Paul Rudd not only made one of the funniest SNL promos ever but had none other than Sir Paul McCartney as musical guest. The show seems to be sticking with their M.O. as not only are they having McCartney back for the final episode of the year, but they're having another Hollywood nice guy host: Martin Short.
The SNL alum returns to his old stomping grounds this weekend for his third time as host, and from the looks of his promo video the comic actor is just as likable and funny as ever. Short's charms and general silliness are on full display during the clip, which features the 62-year-old Canadian funny man being excited about being paid a whole dollar to host, wooing Taran Killam with a necklace, and flipping out on a stagehand for giving him the wrong salad. But, the best gift of all is when Short makes Fred Armisen break out in stifled laughter towards the end of the clip. ("Why do I go there? Why can't I be a different kind of guy?!") If he can make cast members break during the promos, just imagine what the live show will bring. Watch:
Short and McCartney will put some smiles on our faces and bring holiday cheer this weekend on Saturday Night Live on Saturday at 11:30 PM ET on NBC.
[Photo credit: NBC]
More:
From Our Partners: