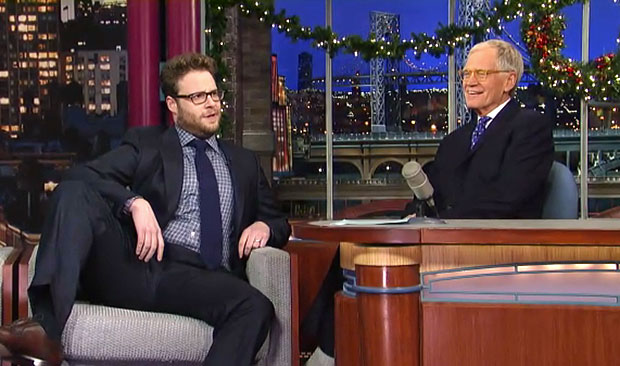 It's expected that Seth Rogen can make a joke out of anything. He is even able to do so about the most embarrassing medical moments. On Wednesday night, Rogen visited the Late Show With David Letterman, and decided to reveal that something odd was discovered in one of the private areas of his body."They examine every inch of your body," the 30-year-old The Guilt Trip actor told Letterman. "They found an anomaly on my groinal region."
The discovery lead to a Rogen's first naked photo shoot. "What happens when they do that, they have to document it. They have to take a photo of it," he said. "So there's this 50-year-old woman in the room and my wife, and they're like, 'We have to take a picture of your bare, groinal region.'"
Rogen was worried about how the pictures would turn out. "I've never taken nude photos in my life," he said. "I wanted them to be good." So Rogen described how he struck a sexy pose, similar to one he had seen in a magazine. "I remember seeing Burt Reynolds on the cover of Playgirl once," he said. Unfortunately, Rogen's sexy pose was useless. "They didn't want that though," he said. "She was just kind of like, 'Boop.' It's like taking a picture of a hamburger or something."
Now, Rogen plans to rob some firemen of their annual money-making calendars. "I have to get more pictures taken regularly," he said. "It's just a mole, I think. But I will have a calendar in 11 more visits."
While Rogen tries to be funny, isn't it a bit disturbing that he's turning what could be quite a serious medical matter into a comedy act? Watch his interview below.
Follow Lindsey on Twitter @LDiMat.
[Photo Credit: CBS]
More:
The Entire 'Freaks and Geeks' Cast Reunite — PHOTO'
The Guilt Trip' Accurately Portrays the Jewish-American Struggle — CLIP
12 New DreamWorks Films Include 'Train Your Dragon' Sequels, Seth Rogen Ghost Movie

11 Worst Movies of 2012! (Moviefone)