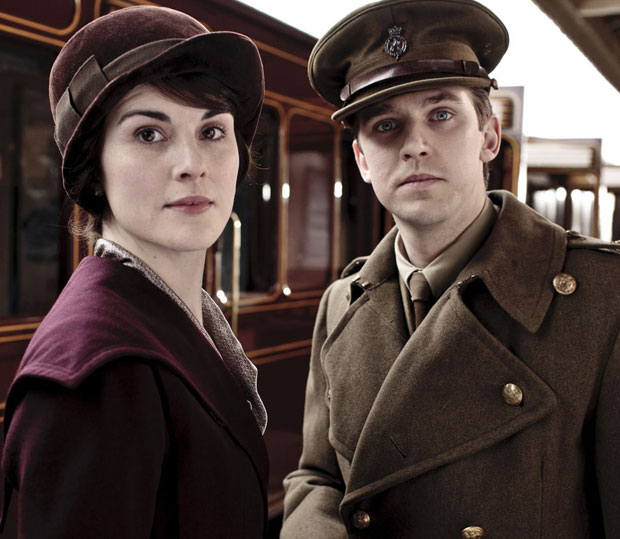 For most actors, landing a plum role on a critically acclaimed and essentially universally beloved drama is a lifelong dream come true. That's why many fans were shocked when one of Downton Abbey's leads made the conscious choice to bow out early — and on Christmas Day, no less! Said actor offered the reasoning behind their departure in a recent interview with The Telegraph, giving the desire for freedom as a primary impetus. [SPOILERS AHEAD]
"It is a very monopolising job," Dan Stevens (Matthew Crawley) says of working on Abbey. "So there is a strange sense of liberation at the same time as great sadness because I am very, very fond of the show and always will be."
Stevens' character — who for years, thought he could not have children — finally experienced true love and the miracle of childbirth during Tuesday's Christmas special... then promptly died in a car accident. It was a cruel fate for the beloved character, but Stevens says the move was necessary for his own personal happiness. "[Departing the show was] a desire for freedom really," he says. "I don't see money or a particular status as an actor as a goal but I want to do the best work I can in as interesting a range of roles as I can. And I think a moment like this is quite unique and presents those opportunities more than ever before."
For Stevens, those opportunities now include a role opposite Jessica Chastain and David Strathairn in The Heiress, a Broadway adaptation of Henry James' Washington Square. What's next is still unknown. "I genuinely don't know exactly what is around the corner but I hope it will be something a little bit different," he says.
Despite Stevens' desire to move on to bigger things, he still speaks very highly of his time on the show, labels himself a fan, and stresses how much he realizes that it changed his life. "It was very emotional shooting the end of this series, because those guys are like family," he says. "We have been living together for three years and have been on the most amazing journey. I don't think any of us, with the possible exception of Maggie [Smith], have had this kind of explosion in our career paths, and may never again. It has been so bizarre, and only those who have been through it can understand it."
Exactly, Mr. Stevens — we may never quite understand why you'd break our hearts after an already tumultuous third series, but we hope your new pastures are just as green and luscious as the yards of Downton Abbey.
Follow Shaunna on Twitter @HWShaunna
[PHOTO CREDIT: Masterpiece]
MORE:
'Downton Abbey' Shocker: How Did You Feel About [Spoiler]!? — POLL
Is Dan Stevens Leaving 'Downton Abbey'? Here's How to Deal
Cast of 'Downton Abbey' Realizes Pun Potential, Takes Subway Downtown
20 Hottest Bikini Bodies of 2012: Kim Kardashian and More!