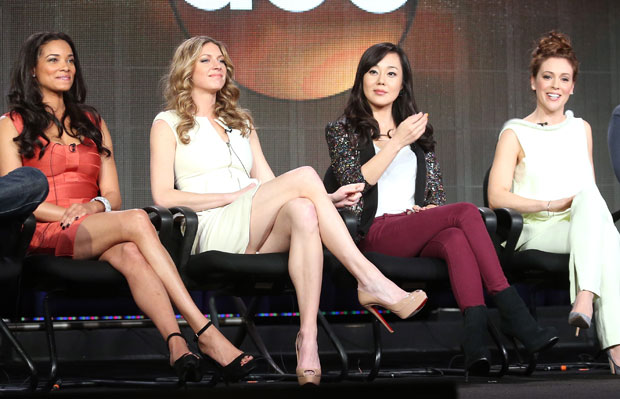 The title of ABC's new primetime soap, Mistresses, is quite provocative — but the content isn't as suggestive as you'd think. Explains executive Rina Mimoun during the show's panel at the Television Critics Association winter press tour, "It's not a bunch of ladies whoring around. It's not the way the show is set up."
Sure, there's adultery in the show — it is called Mistresses, after all — but that's not what the series is about. Says executive producer K.J. Steinberg, "I think the title encapsulates what we are trying to say, which is, at first blush, it sounds salacious. If you scratch the surface of what it is, there's so much more. There's so much more than the affair and the word. ... If we could choose our tag line right now, it wouldn't be 'The joys of adultery.' It would be 'You can't help who you love.'"
Adds executive producer Bob Sertner, "It really isn't the joys of. It's the impact of."
Although Mistresses is based on a British show of the same name, the actors were told to stay away from watching it. Although Yunjin Kim watched the first episode before her audition and the rest of Season One shortly thereafter, Jes Macallan and Jason George didn't. "I was pointedly told the first day, 'Don't watch it.'" Adds Macallan, "I purposefully didn't watch it for that exact reason. I didn't want to have preconceived notions of anything that was happening to anyone."
The American Mistresses is not like its BBC predecessor, says star Alyssa Milano. "Tonally the show is different. I think that even though there's a lot of great things from the BBC version, there's a lightness and a fun to what we've tried to set out to do that is different."
Steinberg expands: "There's also an optimism to the show that was really important to us. The friendships binding these women are really -- they're uplifting. They're relatable. They're enjoyable. They're fun to be around, and I think that not terrible things are happening to these women. Human beings are making interesting choices in their lives that they never thought that they would make. Yes, there is the struggle and the horror of dealing with the consequences of those things, but there's also a joy and an excitement in discovering what you're capable of helping one another through, and the depths that you're willing to go to satisfy your need for love and passion. We wanted all of those colors."
Mistresses will debut on ABC in the summer.
Follow Jean on Twitter @hijean
[PHOTO CREDIT: Frederick M. Brown/Getty Images]
More:
TCA: 'Zero Hour' & 'Red Widow': Clocks, Nazis, Russian Mobsters & More in ABC's New Dramas
TCA: 'Justified' Spoilers and Cold War Spy Drama 'The Americans' Scoop
TCA: Joss Whedon's 'S.H.I.E.L.D.' Pilot Likely to Get Series Order

Megan Fox's 12 Hottest Moments (Moviefone)

Ryan Gosling's 'Airbrushed' Abs: Plus 19 More Reasons We Love the Actor (Moviefone)