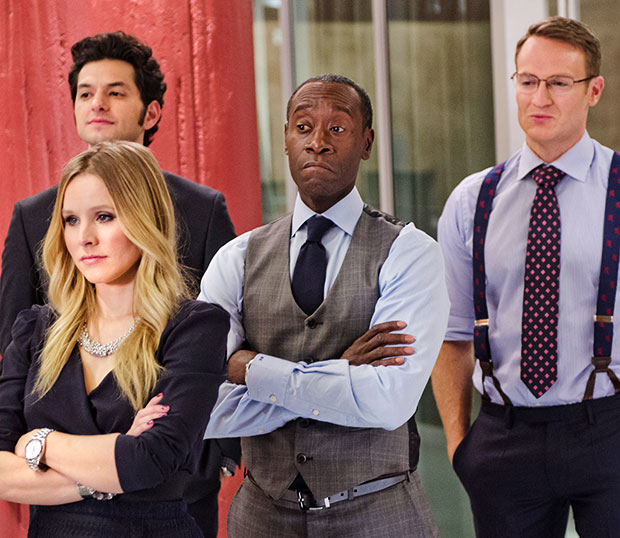 Although the content of Showtime's Sunday night programming slate, including House of Lies, Shameless, and Californication can get dark and funny — sometimes at the same time — the vibe during the network's panel in front of reporters in Pasadena was decidedly light as Don Cheadle, Kristen Bell, William H. Macy, Emmy Rossum, Evan Handler, and Pamela Adlon discussed making their series.
Here are the five funniest exchanges of the lot, provided with minimal context:
After discussing how much fun he has playing such a wild character:
Macy: "They've installed special low-cal scenery, I've been eating so much of it."
Answering a question about Cheadle's role in the series:
Bell to Cheadle: "I'm giving you a compliment, cover your ears."
After Bell praised Cheadle's creative input in staging scenes and he handed her a $100 bill, which she slipped into her bra:
Handler: "It's a hundy, man."
Cheadle: "Of course it is! I'm not cheap."
Handler: "I'm going to compliment you next."
Macy: "So he gives notes."
On doing mostly voiceover work for several years:
Adlon: "I never really took time off, I just started getting pregnant a lot."
On the House of Lies Season One promos that saw them frolicking in the wind with giant balls:
Cheadle: "There were snacks. We did it."
Bell: "I'll do anything for a snack."
As the panel ended abruptly:
Adlon: "I'm single, so..."
Follow Jean on Twitter @hijean
[PHOTO CREDIT: Showtime]
More:
TCA: CBS Boss on 'HIMYM' Season 9, Angus T. Jones' 'Men' Future
TCA: ABC's 'Mistresses' is 'Not a Bunch of Ladies Whoring Around'
TCA: Joss Whedon's 'S.H.I.E.L.D.' Pilot Likely to Get Series Order

Megan Fox's 12 Hottest Moments (Moviefone)

Ryan Gosling's 'Airbrushed' Abs: Plus 19 More Reasons We Love the Actor (Moviefone)