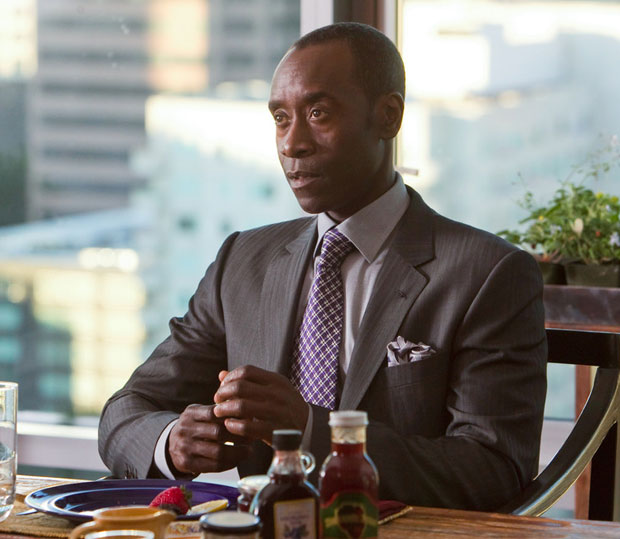 What a banner night for Don Cheadle! Not only did his critically-acclaimed corporate satire House of Lies return for Season 2 on Showtime Sunday, he won the Golden Globe for Best Actor in a Television Series, Comedy or Musical as Lies' predatory management consultant Marty Kaan. Hollywood.com caught up with Cheadle after he was nominated but before the ceremony, and asked what a Golden Globe win would mean to him. "It's a tremendous honor to be recognized for a show that I feel so passionately about, that everyone involved in feels so passionately about," he says.
However, ask Cheadle what he thinks Marty Kaan's reaction to the Globe would be, and things get a bit more interesting. "Knowing Marty, I think he'd follow up the news of his win with a question: 'What's it's cash value?' That's probably all he'd care about."
Though a Golden Globe is pretty great, some of the recognition that means the most to Cheadle comes from those who have firsthand knowledge of the world in which House of Lies is set: the financial sector. Kaan is based in large part on Martin Kihn, who serves as an adviser on House of Lies and wrote the book which helped inspire it, House of Lies: How Management Consultants Steal Your Watch and Then Tell You the Time. The show itself has gathered a huge following on Wall Street. "I think people want to see themselves portrayed onscreen, even if it isn't too flattering," says Cheadle. "And I think it doesn't hurt that the way they are portrayed is somewhat fantastical. Obviously it's all based on Martin Kihn's book, so some of it comes from his—and other people's—personal experiences, but it's refracted enough so that it can be a comedy." Not that you need an MBA to enjoy the show. "I also think part of its appeal is that people like to live vicariously through these characters, and go 'Man, I'd love to go in there and tell my boss I've got him by the balls, present him with evidence to make him bow down to me.' The situations that our characters find themselves in make people go, 'If only…'"
Now that Season 2 of House of Lies is under way, what can we expect to see from the Marty and his colleagues at consulting firm Galweather-Stearn? "This season will continue to explore the fallout from last year, with the power vacuum that's now in the company," Cheadle says. "These guys are such sharks. They're really going to be jockeying for position and try to be the big important person at Galweather-Stearn. I think Marty sees opportunity in everything, and he will try to take advantage of it as best he can so that he comes out on top. Nothing but sticky situations are ahead for him. Right from the beginning of Season 2 you'll see he's back to his old tricks."
Follow Christian Blauvelt on Twitter @Ctblauvelt
[Photo Credit: Showtime]
More:
Golden Globes: 'Girls' Wins for best Comedy Series
Golden Globes: Kathryn Bigelow Is Amused By That James Cameron 'Torture' Joke
The Men of Showtime: William H. Macy, Don Cheadle, & David Duchovny on Their Winter Return

Megan Fox's 12 Hottest Moments (Moviefone)

Ryan Gosling's 'Airbrushed' Abs: Plus 19 More Reasons We Love the Actor (Moviefone)