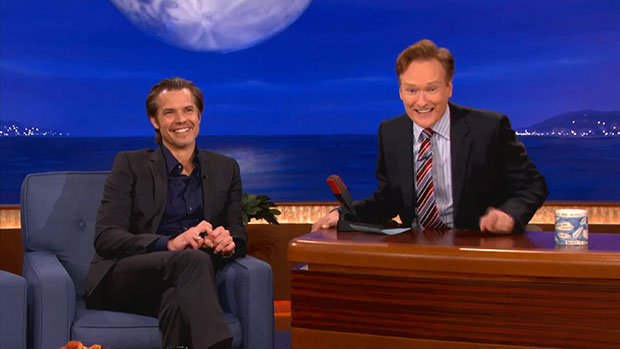 While the rest of the country was discussing President Barack Obama's second Presidential Inauguration or simply sleeping off a hangover from the three-day weekend, Timothy Olyphant stopped by Conan Monday night to have a chat about parenting. And a light-hearted chat it was not. The Justified star tried to joke about the fact that he lets his son play violent video games just because he has done voice-over work in the genre — Olyphant is the voice of Grinch in "Call of Duty: Modern Warfare 3."
"My son can't get enough [of video games]," Olyphant told Conan O'Brien. "We try to keep it to all things in moderation. [But] the thing that gets tricky is, I did a voice in a video game, like one of those shooter [games]. My son really wanted the game, and we broke down."
Olyphant admitted that he always gets asked about the way that violence in video games affects kids. "What's curious about the whole thing is, you get asked in my line of work about the violence and the video game. 'Should the kids be playing it?'" he said. And Olyphant just isn't sure how to respond to the questions. "It's very difficult for me to answer that when my son is at home playing a violent shooter game and I'm in the game encouraging him to shoot people," he said. "He's like, 'Dad it's awesome.' I'm in there going, 'Two O'clock! Fire. Fire. Twelve O'Clock. Good shot, kid.'"
But Olyphant does try, thought, to get his son to participate in more beneficial activities like reading. "And then I come in and I'm like, 'Turn the thing off. Let's go. It's time to read a book,'" he said. "And he's like, 'You were just telling me to kill people [in the video game].' [I respond,] 'Well, killing time is over son. Now it's time to read.' It's very confusing."
Follow Lindsey on Twitter @LDiMat.
[Photo Credit: TBS]
More:
Late Night Last Night: Kim Kardashian's Divorce Drama Drags On — VIDEO
Late Night Last Night: Emma Stone and Jay Leno Dance the Night Away — VIDEO
Late Night Last Night: Betty White Tries to Lie on 'Fallon' — VIDEO
Craziest Celebrity Swimsuits Ever (Celebuzz)