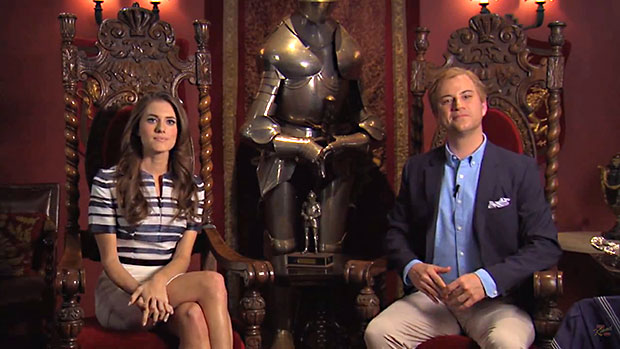 Girls star Allison Williams had a good sense of humor way before she signed on for her starring role in the HBO hit series. In fact, prior to her Girls gig, Williams came out with a series of parody videos for Funny or Die — the infamous comedy video website started by Will Ferrell and Adam McKay — in which she pretended to be Kate Middleton. But on Wednesday night, Jimmy Kimmel questioned Williams' performance as the Duchess of Cambridge, all because he was not in the original videos starring as Prince William. So, to rectify the situation, Kimmel and Williams did a remake of "Will & Kate: Before Happily Ever After."
In the remake, Kimmel seems to forget that the focus of this video is to poke fun at the Duke and Duchess. Instead, he targets the British culture as a whole making fun of English accents, food that is typical to the culture, and more. But halfway through the video, Kimmel starts getting lost on his references. He first confuses "Shrimp on the Barbie" as an English dish. Williams has to clarify that it's actually from Australia. Kimmel then quotes Madonna and insists that she "is British." This leads to an on-screen fight of who is right and wrong ending with Williams storming off and proclaiming, "I am done."
Poor, misinformed Kimmel. Maybe he should have studied his pop culture references a bit more before including them in this skit?
Williams and Kimmel's Video:

Williams' Funny or Die Video (Episode 1):
Follow Lindsey on Twitter @LDiMat.
[Photo Credit: ABC]
More:
Late Night Last Night: Opa! Heidi Klum Dances on Tables for Leno — VIDEO
Late Night Last Night: Kim Kardashian's Divorce Drama Drags On — VIDEO
Late Night Last Night: Emma Stone and Jay Leno Dance the Night Away — VIDEO

Celebs as Kids: Guess Who? (Celebuzz)