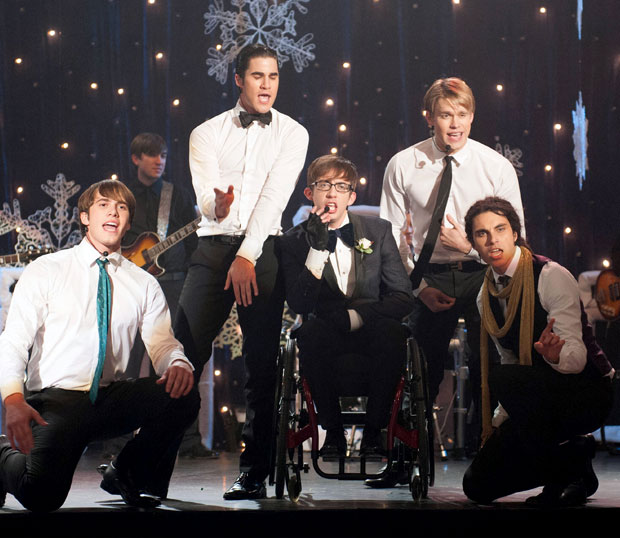 There's a heated debate surrounding Thursday, Jan. 24's episode of Glee. "Sadie Hawkins" featured a slowed-down, banjo-filled cover of Sir Mix-A-Lot's throwback jam, "Baby Got Back." The performance was pretty lackluster, but that's not the problem. The issue lies within the melody. Musician Jonathan Coulton sparked an attention-grabbing Internet-based debate when he noticed that it sounded like the powers that be at Glee had ripped off his unique — and very distinct — musical arrangement of the classic '90s hit.
Coulton took to his Twitter account last week to vent his frustrations with the hit FOX show.
Hey look, @gleeonfox ripped off my cover of Baby Got Back: bit.ly/WME9Ho. Never even contacted me. Classy.
— Jonathan Coulton (@jonathancoulton) January 18, 2013
Now let's do a little compare and contrast shall we? Glee's version, sung by cast newcomer Oliver Kieran-Jones, is embedded in the tweet above. Now check out Coulton's cover below:
Pretty much identical, right? Well, unfortunately for Coulton, his rendition was a non-commercial cover of the original song, thus there are no copyright infringements involved. After the episode aired, the musician headed over to his blog to update his fans on what he referred to as "exciting times!"
Coulton writes, "Well, they aired it, seemingly unchanged. And it's now for sale in the US iTunes store. They also got in touch with my peeps to basically say that they're within their legal rights to do this, and that I should be happy for the exposure (even though they do not credit me, and have not even publicly acknowledged that it's my version – so you know, it's kind of SECRET exposure). While they appear not to be legally obligated to do any of these things, they did not apologize, offer to credit me, or offer to pay me, and indicated that this was their general policy in regards to covers of covers. It does not appear that I have a copyright claim, but I'm still investigating the possibility (which I consider likely) that they used some or all of my audio. I'll write something longer and more detailed about this when I can get my head together about it probably in a couple of days. Thanks for your support, but please continue not to burn anything down."
Even if Glee did nothing wrong legally, it still sounds like there could be some shady business happening. We want to know what you think! Vote in our poll below and then take to the comments to express your feelings on what we're hoping will forever be known as "Baby Got Back-Gate."
<a href="http://polldaddy.com/poll/6855612/">How Do you Feel About the "Baby Got Back" Scandal?</a>
Follow Leanne on Twitter @LeanneAguilera
[Photo Credit: FOX]
MORE:
'Glee' Recap: Scandals, Shocks and Sadie Hawkins
'Glee': A Shipper Filled Catch-Up Before The Next Song
'Glee' Star Lea Michele Says Finn and Rachel Are 'Meant to Be'

Celebs as Kids: Guess Who? (Celebuzz)