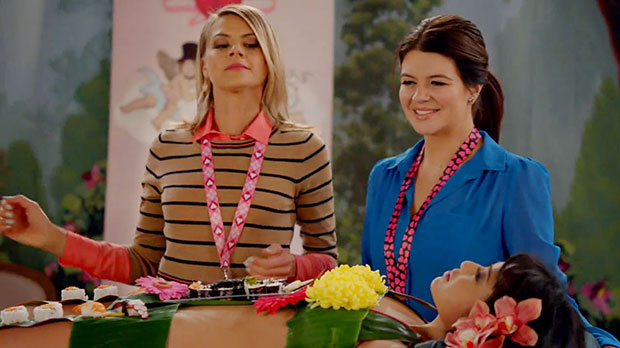 We've seen plenty of weddings during the past two and a half seasons of ABC's wonderfully wacky comedy Happy Endings. Three to be exact, and each one has been more amahzing than the last. Dave and Alex's "I do's" were interrupted by a random love-struck rollerblader, fans were introduced to the infamously quotable line, "What up skanks? Wheeee! Ugh I'm fat!" when Penny flaunted her fake fiancé Derrick at Sherhsow's wedding, and, of course, who could forget when Mandonna reunited to rock the stage at Derrick and Eric's tuxedo-filled nuptials?
It's true, weddings have always been a special event on Happy Endings, so you can imagine our excitement when we learned that one of the sensational sixsome will be walking down the aisle very soon. Hollywood.com recently had a supa-cayut chat with Casey Wilson to discuss Penny and Pete's (Nick Zano) love life, and we're still giddy over Wilson's news: "Well I'll tell you this: they're getting engaged!" she says. Please excuse us for a second, we're busy twirling around our offices like this.
Wilson explains that Penny has been dreaming about her wedding day since she was a little girl, but there's one gigantic problem: she might not get one! "The one thing Pete does is he says the worst thing Penny ever wants to hear: he says he wants to elope," she says. "And then she faints. She faints, and Penny cannot handle that." Yikes! Hopefully she's wearing her helmet!
In tomorrow night's episode, "Our Best Friend's Wedding," Penny and Jane drag Pete to a wedding expo to show him every man's dream wedding, complete with a blue cheese fountain, reggae music, and sexy sushi. Check out Hollywood.com's exclusive clip below to experience the world's best wedding informercial for yourself!
That's quite the brotastic wedding, but will it be enough to change Pete's mind? Wilson seems confident of Penny's powers of persuasion. "Well you know she's been living for this moment her entire life... I don't think that [Pete's aversion] can deter Penny. She's a bridezilla one hundred percent." To quote Derrick, there's definitely going to be some "D-R-A-M-A Drama!" coming up for the newly engaged duo. We're definitely crossing our fingers and toes that we'll get to see another cray cray Happy Endings wedding this season.
If you want to have an absolutely incredible Tuesday night, make sure you catch two all-new episodes of Happy Endings tomorrow beginning at 8 PM on ABC!
Are you excited for the Happy Endings' engagement? Think Penny can convince Nick to have a wedding? Would you like to have chicken wings and a bluecheese fountain at your wedding? Shout it out in the comments below!
Follow Leanne on Twitter @LeanneAguilera
[Photo Credit: ABC]
MORE:
'Happy Endings' Recap: Friendship... It Will Kill Us All
'Happy Endings' Recap: The Kickball Episode Finally Arrives!
'Happy Endings' Recap: Picking the Show's Funniest Duo

20 Hottest Celebrity Bikini Bodies