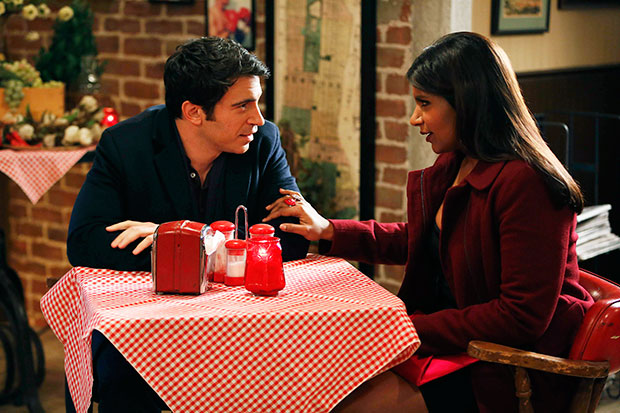 Oh, Valentine's Day! What a wondrous holiday, filled with love, romance, and companionship. It's a time for reflection on your past loves, the ones that never were, and the ones that are meant to be. The future! Everyone believes in that, right? Dr. Lahiri has found herself a mate in Jaime, the latin professor with a best friend named Lucy, who also happens to maybe-kinda-sorta be Jaime's soulmate (try as Mindy might to prove otherwise). Sure, a double date with Dr. Castellano may temporarily solve the problem that is Jaime and Lucy's inevitable perfect coupledom, but it's sort of like putting a bandaid on Niagara Falls. You know?
So what's a girl to do when her second love falls for his best friend? Make it an educational moment, of course! And so this week's dos and don'ts of dating began.
RELATED: The Dos and Don'ts of Dating from 'The Mindy Project': When You're Breaking Up
1.) Do go to the Empire State Building at Valentine's Day — It's the pinnacle of romance!
2.) Do not use terror euphemisms for romance — He'll mean Homeland SECURITY, not Carrie Mathison.
3.) Don't hit on security — they won't find it amusing. Trust me.
RELATED: The Dos and Don'ts of Dating from 'The Mindy Project': When You Hit It and Quit It
4.) Don't let a pre-Valentine's Day break-up bring you down — when you lay on the floor you look like an upside-down lady bug.
5.) Don't go out on Valentine's Day if you're keeping it low-key — It's like an emotional Bosnia.
6.) Do set up your friends! — That way your boyfriend won't hang out with his best friend too much.
7.) Embrace the boring, sexy anonymous girl — But only sometimes, because you're still an individual!
8.) Don't underestimate the person you're with when you're with them — It's important to keeping life fresh, you guys.
9.) Do you Match.Mindy — Works every time. Sorta.
10.) Don't ever take Dr. Reed's advice — Like I said, emotional Bosnia.
RELATED: The Dos and Don'ts of Dating from 'The Mindy Project': Love's Letter Lost Edition
11.) Don't ever try to jump a turnstile — it will never impress your date.
12.) Do know The Heimlich Maneuver — You never know when it'll come in handy!
13.) Don't underestimate shitty pizza — Sometimes the best moments happen over the worst scenarios.
11.) Don't bet against chemistry — Ever.
What did you think of this week's episode of The Mindy Project? Let us know in the comments!
[Photo Credit: FOX]
Follow Alicia on Twitter @alicialutes

40 Most Scandalous See-Through Red Carpet Looks (Vh1)