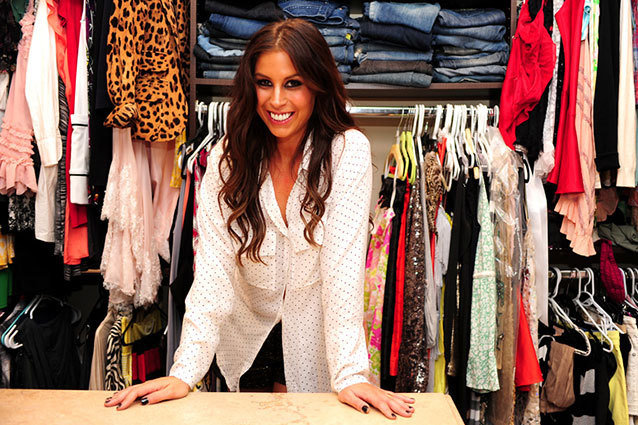 Every job comes with stress — there's no question about it. But add in a large group of demanding divas who don't take no for an answer, and suddenly, Advil becomes your best friend.
There are few who can navigate the TV wardrobe world, and stylist Jeni Elizabeth is one of them. "You're not always going to love the look," Elizabeth tells Hollywood.com. "But, whether you love it or not, making that client feel like they have the most self-confidence in the world and feel absolutely gorgeous is the best part of your day."
But a disapproving nod isn't the only problem that can occur on a TV set. Elizabeth, who has worked on shows including Jersey Shore, Wedding Wars, and Tool Academy, shares with us her 10 craziest costume requests. 
1. A Badazzled Collar: Elizabeth was asked to create a crazy accessory for Bad Girls Club star Tanisha Thomas for the pilot Tanisha's Court: A bedazzled collar. Since purchasing the sparkly accessory would exceed Elizabeth's budget, the wardrobe stylist was forced to enroll in a Jo-Ann Fabric course in order to make the collar herself. "I sat through this two-hour class that taught me how to cut, sew, and make a judge's collar," she says. "And then I purchased all the crystals and I made two versions of the collar, which I almost lost my eyesight doing and made them overnight for the pilot." The silver lining? Betty White also attended Elizabeth's class. 
2. Bare bottoms: Elizabeth had to find a way to keep the Ikki twins from showing off their rears on A Double Shot at Love. "These girls wanted their dresses so short and it was super uncomfortable," she says. "There were several times where I had to draw my lines with those girls and say, 'You're not wearing it or you're putting shorts on underneath.' When they would sit down, it was essentially 'Rated X' at that point."
3. Tool Time: While working on Tool Academy, Elizabeth found herself with a challenge: Fitting sweater vests and pleated pants on group of meatheads whose muscles were more familiar with tanks. "I needed 15 bright blue sweater vests in less than 24 hours," she says. "It was horrible because it's not even like it happened within store hours. There have definitely been times that I wish I had kept somebody in my house who can make clothes."
4. Step Up The Height: It's no secret some Hollywood stars are vertically challenged. So it's no surprise that some of Elizabeth's clients have asked her to make them appear as tall as possible. "A lot of the clients I work with require very tall platform shoes," she says. "There have been times when a three-inch platform wasn't tall enough for them, so I would add three or four Dr. Scholl's inserts and stack them to get an additional inch or two."
5. Zipper Me Up: Of course, even stars who want to look tall want to look small too. But Elizabeth says sometimes even her miraculous work can't perform miracles. "I can think of instances where [stars] fell in love with a dress and they just wanted to believe so badly that they were that size," Elizabeth says. "It's bad enough when you have to call someone in to hold it to zipper it — but to have to look at a client and say, 'Listen, I know you love this dress, but it's not going to happen. We have to go up a couple of sizes,' it's heart-breaking."
6. Shopping Nightmares: Elizabeth was asked to create a costume for Big Gus, star of Spike's Tattoo Nightmares. And if you haven't figured it out by the guy's nickname, he is bit on the larger side. "They wanted him in a bowling shirt, and Big Gus is big," Elizabeth says. "That day, I put over 300 miles on my car driving everywhere from department stores to specialty stores to school uniform stores trying to find shirts that would fit him and were in the parameters of what Spike was asking for. I believe I had a complete nervous breakdown."
7. Runaway Brides: While working on Wedding Wars, Elizabeth had to create wedding gowns that could be worn on the treadmill and in water. And, yes, it's as insane as that sounds. "They wanted them to run in bridal gowns," Elizabeth says. "The majority of [the gowns] were strapless [and], obviously, when you're running and sweating, the dresses are sliding. So I had to created bustiers inside of the wedding gowns to fasten them super tight. And then I actually sewed their dresses to their bras. In addition, I had to cut all of them short enough so they could run and not trip on them, but they still looked like wedding gowns and not cocktail dresses. That was a pretty crazy thing."
NEXT: White Fright and Eyebrow Waxing...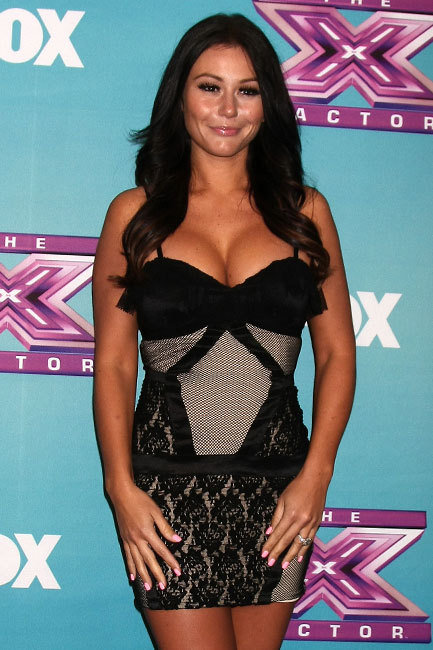 8. Revealing Request: Leave it to the Jersey Shore girls to show off their private assets. "Jenni [Farley, a.k.a. JWoww] obviously loves to show her cleavage," Elizabeth says. "Whether it's been shortening dresses for the cast, cutting them lower to show more boob, or really accentuating the best part of their bodies, [it] has definitely been something that has been crazy for me." Elizabeth adds: "Going from Henri Bendel to the Jersey Shore cast was like going into culture shock. It has definitely been a whole new awakening for me of flaunting assets."
9. Make a Match: Stars have even demanded Elizabeth supply them with clothing that no longer exists on the market. "For Tattoo Nightmares, one of our girls was wearing a pair of bebe leggings that were no longer available and the leggings had leather patches on them," she says. "So, I needed to go out and buy a standard pair of leggings, cut leather, and make them look exactly like the bebe leggings. I'm not a seamstress. That was definitely a trying time."
10. 15 Matching Musts: While working on Tool Academy, Elizabeth had to come up with 15 identical blazers for an elimination ceremony on a tight deadline. It turned out to be an impossible task, so the wardrobe stylist had to make some adjustments. "I was caught in Macy's ripping off gold buttons," she says. "I had already purchased all of the blazers, but the store manager came up to me and told me that he would appreciate me not vandalizing their clothing in the middle of the store. He's like, 'You have to go outside to do that.' So I sat on the curb outside the store with my own sewing station."
11. Color for the Camera: One strict wardrobe rule: Don't wear white on TV. Elizabeth, however, thought she could avoid the color's washed-out appearance with a gown for Wedding Wars' host Michele Merkin, but the network refused... while Elizabeth was already on the Hawaii set. "There were no local stores to buy another dress," Elizabeth says. "My solution to that was I spray painted the dress ivory. And then I ripped a pair of shorts and sewed on one and half inch hems on the bottom." The solution worked temporarily, but had filming the scene taken longer, the dress may not have made it: "It was humid so the paint was leaking all over her. It was actually stunning but she was covered in paint and itchy. I was praying every minute that the elimination ceremony was going to be over so that the dress didn't fall apart."
12. An Eye-Raising Pauly D Job: Not only did Elizabeth have to sub as a seamstress, but at one point, she also had to work as a makeup artist on the set of Jersey Shore. "We were once locked up in a hotel and Pauly D couldn't get his eyebrows waxed, so I had to pluck all of his eyebrows," she says. "That's not really wardrobe. But we didn't have a makeup crew yet and he was on lock-down. We were peeing our pants because I kept telling him, 'I don't know how these eyebrows are going to come out.'"
Clearly, Elizabeth has a crazy job that centers around insane demands. "When they give me these requests, they laugh at me," Elizabeth says. "They think it's funny. They love to see me break into tears."
Follow Lindsey on Twitter @LDiMat.
[Image Credit: N/C; WENN]
---
From Our Partners:

40 Hottest Celeb Twitpics of the Month (Vh1)

'Sports Illustrated' Swimsuit Issue: A Visual History (Celebuzz)