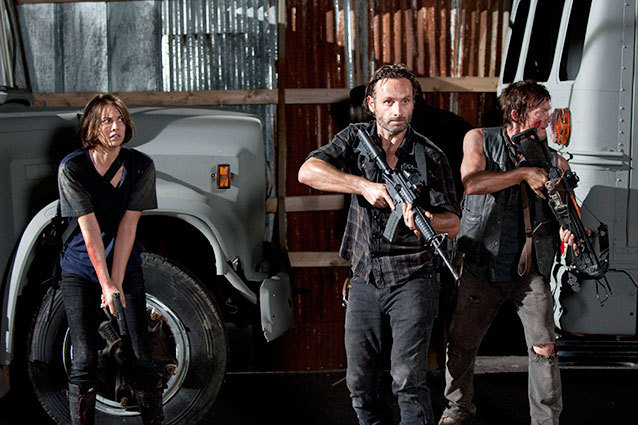 The Walking Dead continues to walk tall. Four months after the AMC series scored a ratings record with its Season 3 premiere — which attracted 10.9 million viewers — Walking Dead crushed the episode with the ratings for Sunday's midseason premiere. The episode, which teased the popular Daryl Dixon's (Norman Reedus) possible death, attracted a whopping 12.3 million viewers. 
Those are network-style ratings for the series that premiered in 2010 to 5.3 million viewers. Of course, The Walking Dead started off on the right leg (#NeverForgetHershelsLeg), being the cable network's most-watched series pilot. 
RELATED: 'The Walking Dead' Recap: We're All Mad Here
According to AMC, the episode marks the strongest finish in basic cable history for adults 18-49, attracting 7.7 million in the demographic. And the series smoked Sunday night's network series like Once Upon a Time (7.02 million) and Revenge (5.07 million).
And we can expect the numbers to only continue, if the Season 3 action keeps up. And it should, as Reedus told Hollywood.com. As for what's ahead for Daryl, Reedus tells us: "Daryl has it in him to just want [The Governor] dead ... Daryl is the type of guy that, when he gets his mind set on something, he's just going to make it happen. He's more than capable of having bouts of rage. I don't know that [the rage] would break him, but it would make him hell-bent on getting revenge." 
RELATED: Norman Reedus Talks Sex, Babies, and Memes 
[Image Credit: Gene Page/AMC]
---
From Our Partners:

40 Hottest Celeb Twitpics of the Month (Vh1)

'Sports Illustrated' Swimsuit Issue: A Visual History (Celebuzz)