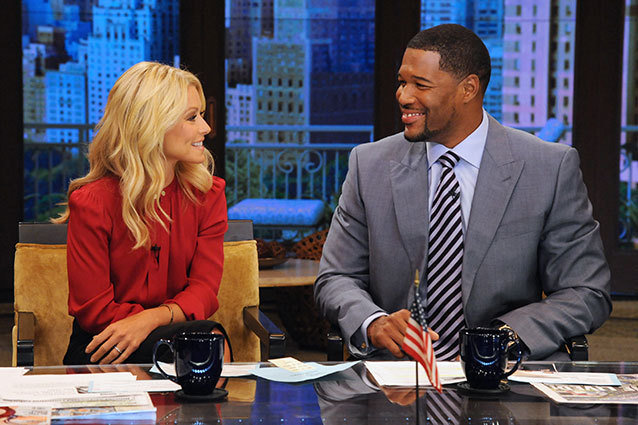 Michael Strahan is having a wardrobe malfunction. He's backstage at the set of Live! With Kelly & Michael a week before Christmas, and the ex-NFL star, three months into his gig as co-host of the chat show, is struggling to slip on a pair of "meggings." That is, leggings designed for men. "I'm not so spindly!" he says. But he eventually succeeds, pulls them on, and trots on set looking like a defensive end who's been forced into becoming an understudy for Mikhail Baryshnikov. Needless to say, the audience loves it.
This is about as chaotic as it ever gets at Live! Entering its 25th year of nationwide broadcast, it's about the only daytime talk show currently on-air that qualifies as an institution, an irreplaceable part of the morning TV landscape. Watching from backstage, there's a streamlined effortlessness that belies the hard work and dedication of its behind-the-scenes crew, like senior talent booker Kelly Burkhard. She's largely responsible for maintaining the best ongoing lineup of celebrity talent of any daytime show, the crucial component that keeps the well-oiled machine that is the production of Live! functioning on all cylinders.
"We pretty much have gotten everyone," Burkhard says, when asked about their roster of A-List guests. Even Robert De Niro, who remained elusive for years, finally appeared on the show a couple years back. "I work really hard at that. To me, a 'no' is never a permanent 'no.' It's just a 'no' for right that minute. But if you remain persistent, if you keep pressing it, that 'no' will become a 'yes' eventually." It's because of the efforts of Burkhard that a backstage struggle with meggings is the biggest issue the 'Live!' production ever typically has to face—and not, say, having to fill dead air because a celebrity dropped out at the last minute.
Hosts Strahan and Kelly Ripa are grateful for that. "Kelly is one of the hearts and souls of our show," Ripa says of Burkhard. "It cannot be undervalued what she does. Not only does she get the big celebrities to come on, they do it willingly because she has such a great rapport with everyone behind the scenes."
Burkhard took us behind the scenes of Live! to show us what a typical day is like when you're the senior talent booker for the No. 1 show on daytime TV.
Going Live! Is Just the Beginning
If there's one word that sums up the business of being a talent booker it's this: relationships. It's a matter of acquiring contacts, then deepening and developing those connections, something Burkhard began when she was the assistant to a prominent talent manager at 3 Arts Entertainment in Los Angeles. "20 years ago all the huge names I met are still huge names," she says. "And also, the people I came up with have become huge. So those relationships from all those years ago still help me tremendously." She moved back to New York to take a booking gig with The Charlie Rose Show, then, in 1997, Live! came a calling.
RELATED: How a Movie Trailer Is Made
On average, Burkhard arrives at Live!'s Upper West Side studio about an hour before the start of the show to greet the celebrity guests and their publicists. With her blond hair and small frame, she could easily be mistaken for Kelly Ripa's sister. Not to mention she shares with Ripa an enviable skill: to be perky and energetic at an ungodly hour. That's something Burkhard needs in abundance, because possibly the most important part of her job takes place during the show. Or rather, during its commercial breaks. She watches the show backstage with the publicists for whatever actors, reality TV personalities, or musical artists she's booked to appear that day. And during the commercial breaks Burkhard discusses with the publicists what other clients of theirs could be available for future bookings.
RELATED: The Production Assistant—Hollywood's Most Important and Thankless Position
The entertainment industry is actually a pretty small world. The publicist for one actor or musician could represent a couple dozen other celebrities. The day of my visit, Seth Rogen is the guest, and his publicist also represents Jack Black, Judd Apatow, Jason Segel, Steve Carell, and Jon Stewart, among others. "You have to keep those relationships very strong, because each rep has twenty other people that you want on your show." And the Live! studio is a homey enough environment—one flight of stairs is even called "The Brady Bunch Staircase"—that the puzzle-piece planning of matching talent availability with open guest slots can feel like building a relationship rather than just businesslike wheeling and dealing.
One Show Ends, but Planning for Future Eps Never Does
Immediately after the broadcast wraps, longtime executive producer Michael Gelman convenes Live!'s daily production meeting. They discuss the schedule for the next day's show and start planning ahead for some of their hugely popular themed and holiday episodes. The annual Halloween extravaganza, involving multiple guests and many costume changes for Kelly & Michael, requires particular planning. Not to mention that talent availability for some of the biggest tentpole movies needs to be lined up fast.
NEXT: How far in advance does Burkhard book Kelly & Michael's guests? And what happens when a guest drops out at the last minute?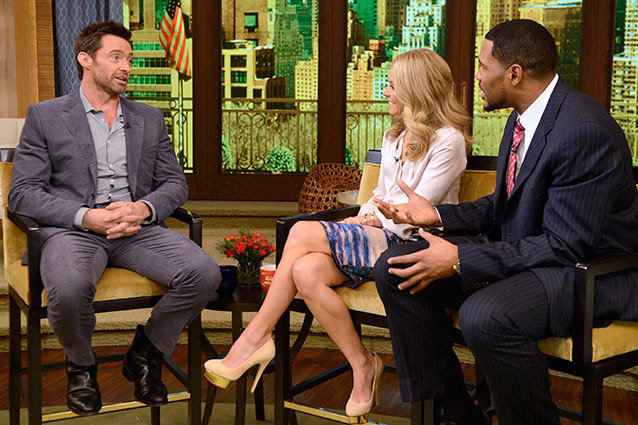 After the meeting, the day really begins. Which means Burkhard hits the phone. She likes to book Live! as far in advance as she can, based on what she knows about the hottest upcoming films and TV shows and who's being buzzed about as a possible breakout star. Burkhard wants to make one thing very clear. "I never ever wait for my phone to ring," she says. "I like to be way ahead. I'm on the phone constantly. I never sit back. Even though we've been the top show for so many years. You have to be on top of everything, ahead of the curve, researching and calling." And that means doing a lot of research first: reading trade publications and entertainment websites, talking to insiders, attending screenings. "The minute the last Twilight film wrapped production I reached out about booking the cast," she says. "That was in May of 2012, and we knew the movie wouldn't be coming out until November." For a movie that big with talent that in demand, a six-month lead time on booking Robert Pattinson, Kristen Stewart, and Taylor Lautner would be typical. "Six months in advance is really just to talk dates, though. As soon as we had the cast on when the first film debuted, I immediately arranged to have them return to promote the second, third, and fourth movies. Six months out for Breaking Dawn was just a matter of getting timing set." In fact, she tries to stay in touch with each of her publicity and talent management contacts at least once a week to maintain the strength of those relationships. "I like to do most of my job by phone, because I think you can better further a relationship by actually speaking. Things can get misconstrued so very easily when you're communicating by email. Over the phone, everything's much more clear."
RELATED: How Movie Posters Are Made
Though Burkhard never waits for her phone to ring, it still does. A lot. And her Inbox fills up fast. In fact, she estimates that she gets up to a thousand pitches a week for talent bookings, and sometimes more. She'll review some of those with Gelman, who has final sign-off on her proposed lineup of guests.
Crisis Time: What Happens When a Guest Drops Out Last Minute?
"It rarely happens," Burkhard says. "But if it does, we have several back-up plans." To start with, they can extend the segment of the guest who's still booked. Or they extend the opening host chat. ("Host chat can go on forever!") They can also throw together a last-minute audience participation segment. But Burkhard also keeps a stable of backups, of alternate guests, in case they get word about a scheduled guest backing out with at least a day to spare. "These are actors or musicians who we know are in town promoting a project and who had wanted to be on the show, and who we really wanted to have on the show but couldn't  because we were already booked. Now they have an opening and can make an appearance. 'Great, we can get you in!'"
The week of Hurricane Sandy represents a perfect example. Reba McEntire had been scheduled for Monday October 29, the day the storm hit, to promote her new sitcom Malibu Country. Her flight was cancelled, and she couldn't make it to New York. Luckily, Jimmy Kimmel was already in the city, because he had brought his late night show to Brooklyn. He was scheduled to appear on Live! that Tuesday but was able to make his appearance a day early. Tuesday, with much of the city lacking power, saw the show cancelled outright. Wednesday, the show resumed, but again, its guests weren't able to make it. So on Tuesday Burkhard reached out to Diane Sawyer, who was known to be in New York, and who could talk about the storm. But, considering how far in advance the show is booked, it can be difficult to reschedule a guest who was unexpectedly bumped. Reba wasn't able to appear on Live! after her Sandy-related cancellation until Feb. 6.
The Cycle Continues
But those kinds of emergencies are pretty rare. A typical day continues with Kelly reaching out to her contacts throughout the afternoon. She leaves the studio in the early evening, and keeps checking her blackberry and cell until her head hits the pillow. "They stay right by my bed all night long."
Follow Christian Blauvelt on Twitter @Ctblauvelt
[Photo Credit: David Steele/ABC, Lorenzo Bevilaqua/ABC]
---
From Our Partners:

'SI's 25 Sexiest Swimsuit Covers of All Time (Vh1)

Pregnant Kate Middleton Bikini Pics Spark Palace Anger (Celebuzz)