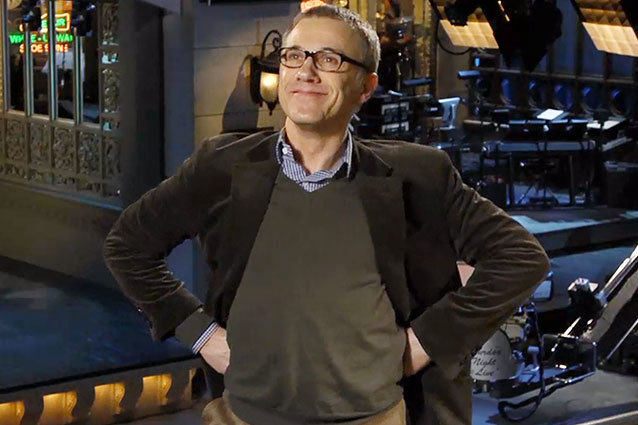 Despite the fact that Arnold Schwarzenegger was regularly parodied on Saturday Night Live (by impressionist Darrell Hammond and Dana Carvey and Kevin Nealon's Schwarzenegger-inspired Hans & Franz), the actor has never hosted the sketch comedy series. It's a surprising fact considering Schwarzenegger's penchant for comedy and his cinema dominance in the 1990s. (The actor did, however, once appear in a cold open for the series in a Hans & Franz skit.)
RELATED: Christoph Waltz Goes 'Between Two Ferns'
But what's even more surprising is how much more excited we are to watch Austria's more distinguished export, Christoph Waltz, host Saturday Night Live. The Oscar-winning Django Unchained actor not only provided some much-needed comic relief to Quentin Tarantino's slave-centric drama, but also managed to deliver laughs while playing nefarious Nazi Hans Landa in Inglourious Basterds. So, surely, if he was able to bring humor to material so dark, he can somehow manage to make "The Californians" funny too, right?
That's the hope, at least. And based on his promos with Fred Armisen released Thursday, there are more good things ahead for Waltz besides a possible Oscar. 
RELATED: Christoph Waltz Will Terrify, Amuse as 'SNL' Host
But will you be watching Waltz and musical guest the Alabama Shakes on Saturday Night Live? Tune in Saturday to see if he pumps (clap) us up, and then return Sunday for our full recap!
Follow Kate on Twitter @HWKateWard
---
From Our Partners:

Bradley Cooper Dancing Is Surprisingly Awkward (Vh1) 

Kate Upton Bares All in Nothing But Body Paint (Celebuzz)

[Image Credit: NBC]